Sahara Sam's Oasis
Perfect for Spring Break and Any Time!
ANNUAL PASSES – NOW IS THE PERFECT TIME!
After in-depth review of our guest feedback,
Sahara Sam's Oasis
released The Annual Pass program. Each guest who holds an Annual Pass receives unlimited visits to the park for an entire year.
We believe that
Sahara Sam's Oasis
has a product that fosters a safe, fun, and memorable experience for our guests. We also believe that by continually adding value through programs, new attractions, and your feedback, our guests will return again and again with their families and friends. Since we are open all year round, we needed to create a program that makes this option affordable.
NOTE: The price of $59.95 is PER PERSON. The passes are non-transferable.
What are the benfits of the Annual Pass?
The annual pass is affordable; it pays for itself after two visits.

The annual pass includes both the INDOOR AND OUTDOOR parts of the waterpark!

The annual pass can be used anytime. For parents with unique schedules, it's a relief to know they can take their families to the water park without worrying about admission costs. The pass is also great for baby sitters.

It makes no difference when you buy your pass; they are good for an entire year from the date of activation (your first visit).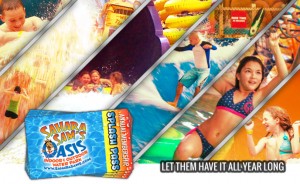 Disclosure: Preview passes provided by Sahara Sam's. All opinions are that of Diane Sullivan.