Netflix Stranger Things 4 Fan Event NYC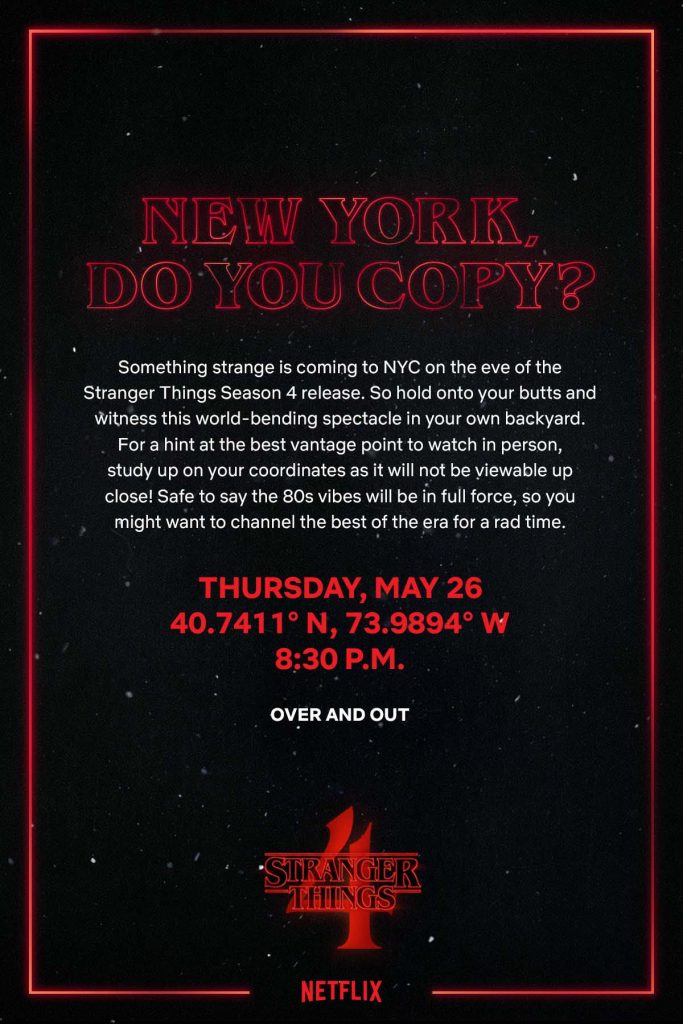 Well, it's hard to believe the time is FINALLY here! Netflix Stranger Things Season 4 is about to release on Friday, May 27th and we are ready. NYC is getting in on the fun by taking fans to the Upside Down! The eve before Season 4 drops you can get in on the fun by meeting at the coordinates above. We will make it easy for you, it's by the Flatiron Building in NYC where we all will meet up! Who's going to join the fun?  You will want to be facing the Empire State Building 40.7411° N 73.9894° W for the full show!
The event will begin with the mysterious clock we ALL want to know more about in Season 4 as it counts down to 8:45 pm. You will have to be facing the Empire State Building from the flatiron area to get a view of the entire thing in motion. There will be large moments from the series, and also Season 4 stories. The light show designed by renowned lighting designer Marc Brickman is going to be incredible and is set to last for fifteen minutes. If you miss it or are in the wrong spot for viewing, do not fret it's going to loop for approximately TWO HOURS!!!! I may just stay for ALL TWO  HOURS! Oh wait, I need to get home for 3 am to start streaming Stranger Things 4. See you in the Upside Down!
Find out more about Stranger Things on the links below.
Instagram: StrangerThingsTV
Facebook: StrangerThingsTV
Twitter: Stranger_Things