The Croods Red Carpet NYC Premiere
Life can be a wonderful thing, especially when you have the pleasure
of attending a Red Carpet Premiere in NYC thanks to
+The Moms
.
Recently my family attended Dream Works Animation NYC premiere
of The Croods. Of course there were stars abound and we did get a glimpse
of some of them and got to chat with others. All in all it was an amazing day filled
with lights, cameras, stars, popcorn, treats, swag and of course that famous red carpet.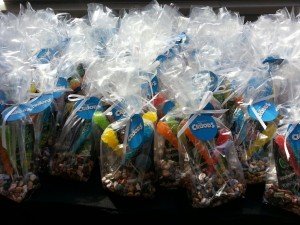 Meeting Emma Stone
No matter how amazing the event in itself may have been, it would not have
been complete if the movie did not live up. I am happy to say that The Croods is
worth a go on March 22nd when it officially hits theaters. This movie was hilarious and
was only confirmed by the roar of laughter from both adults and children that
filled the theater of The Croods 3D goers.
DreamWorks Animation,
The Croods
, is a humorous adventure filled with exciting 3D screen moments and quite a few chuckles on both child and adult level. The fun never ends with this prehistoric family as they try to beat the clock after their cave of protection is destroyed forever. The overprotective father, Grug (
Nicolas Cage)
is just hilarious with his backward way of thinking along with his ideals about how his family should operate. Things get more intense as Grug's daughter, Eep (
Emma Stone)
meets up with Guy (
Ryan Reynolds)
, who has a whole other
outlook on life and tries to convince the family there is "another way" to live.
As The Croods flee the only life they ever knew, they discover an amazing new world,
new ways, new friends and most importantly a new way of thinking.
I think there is a little bit of The Croods in every family.
Diane Sullivan Email me at ELGeorgia@aol.com
One lucky reader will win an Official Red Carpet Premiere Swag Bag from
the event above. Winner chosen March 28th, 2013 at 11:59pm.
Winner notified by email and has 24 hours to respond and claim prize before
a new winner is chosen. Good Luck! USA only/18+