Post Sesame Street Cereal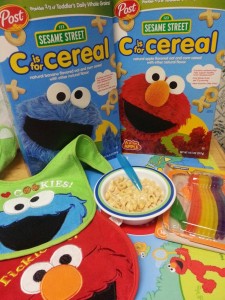 When it comes to being a parent I have plenty of experience. When it comes to buying cereal
for my children, I cannot even begin to count how many boxes have ended up in the trash throughout the years. When I was invited to check out Post Sesame Street Cereal I had to give it a shot.
My youngest daughter is almost out of the Sesame Street years, but still
adores those furry little Sesame Street characters.
Elmo and Cookie Monster seem to be among our family favorites.
When our box of goodies arrived I have to admit, it was breakfast for dinner!
My daughter could not wait until the morning to test out the delicious boxes of yum!
Trying to decide which box to open and try first, we decided to mix the awesome flavors or
Elmo's A is for Apple flavor and Cookie Monster's B is for Banana flavor, both natural flavors.
Both flavors were delicious and to boot, the aroma of each flavor
as we opened the boxes let us know that the taste would be wonderful.
Let me sum it up Y is for Yum! D is for Delicious! N is for Nutritious!
The entire family tried it, we all loved it!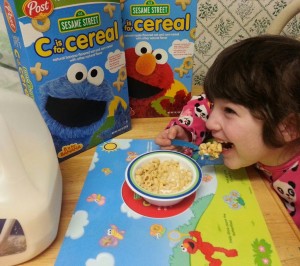 This is a perfect first food for infants(that are ready for solid foods) and toddlers.
Sesame Street Cereal provides 2/3 of a toddler's daily whole grains serving in fun
You don't have to worry about this cereal being to rough on your baby or toddler,
this crunchy delight is specially formulated to melt in a toddler's mouth.
As if the taste is not enough Post Sesame Street Cereal contains nutrients that help
support healthy brain development! What more could you ask for?
Oh yes, it does not hurt that the boxes are just adorable! They will entertain your toddler
just looking at them. Who does not want to eat a bowl of cereal in the company of
Elmo or Cookie Monster?
This oat and corn cereal has a little love in every X and O.
As for my daughter who is big into Tic Tac Toe, she loved the X and O shapes!
As a mom of three, I would recommend Post Sesame Street Cereal to anyone with
babies, toddlers, or kids that love Cookie Monster and Elmo!
Nutrition, Fun, Taste and Sesame Street, equals
one happy little person and one happy parent!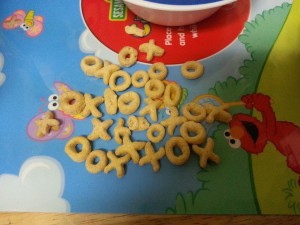 Disclosure:Review products provided through Post Cereal and Macaroni Kid.