Nintendo's Splatoon Is Taking Over Our House This Summer!
This summer something has taken over our house! No one is complaining that's for sure. In fact this gaming family has welcomed the takeover with open arms! Splatoon, Nintendo's new energetic third-person shooter game is a perfect game for families and kids of all ages! Splatoon offers a unique experience that differs from other games in its genre. Players can seamlessly transform from their human form into squids, and can swim around in the paint that they have coated the ground with from their guns.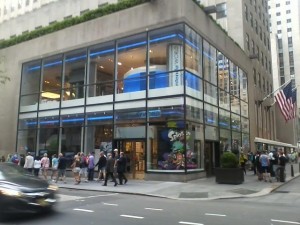 Splatoon's multiplayer mode focuses on two teams competing the cover the most ground with their team's paint color. This makes for a hectic, exciting, and fun multiplayer experience. Splatoon's graphics show off the technical power of the Wii U, and all of the different vibrant colors in the game set it apart from most other games on the market.
My children have become big fans of Nintendo's Splatoon. It is a game that appeals to all ages, due to the fact that it is very bright and colorful along with having RPG-like character customization and multiplayer with high replay value. Splatoon is an incredible game, and has become a classic in my home. By the way: SPLATFEST!! We have and will be so there! If only we could choose the winning team! Thanks for all the fun, Nintendo. You know how to keep this family happy! 
Disclosure: Diane Sullivan was provided with Nintendo WiiU gaming system along with Splatoon and Amiibo figures in order to be a Nintendo Gamer and complete this review. All opinions are those of my own and completely honest. No compensation was given for this post. Contact me at 3decades3kids@gmail.com or Diane@3decades3kids.net