Chevys Fresh Mex Has A Lobster Fiesta Going On Now!
One of our family's favorite restaurants around is Chevys Fresh Mex. Everyone in our family of five loves Mexican inspired food. Hubby and I have spent many days in Mexico and dining at Chevys Fresh Mex is the closest thing we have found to going back!  Now that summer is in full swing, Chevys Fresh Mex has introduced a limited time, seasonal menu perfect for lobster lovers – and the summertime season. Chevys Fresh Mex's Lobster Fiesta menu features three new dishes starring sweet, succulent lobster with a Fresh Mex twist. I took pictures of ALL of them, so you could get a close up look of the deliciousness! Don't ask me which one my fav was, please! We all ending up just digging into all three of the lobster dishes. Yum to all! The three dishes are available at Chevys Fresh Mex location in Clifton and Linden.
The Lobster Fiesta Menu includes:
Lobster Salad – This Spring mix is topped with a generous portion of lobster meat, accompanied by house-roasted corn salsa, fresh avocado slices and tortilla strips, served with choice of dressing (Chevys recommends cilantro-lime). We took the recommended dressing and the entire dish was absolutely delish! 
Lobster Roll –Where ever lobster rolls are available, I am so there. I order this all time at many different places. Chevys Fresh Mex totally lived up!  Two split-top rolls, toasted and stuffed with Chevys' mexi-style lobster salad – delectable pieces of lobster mixed with homemade chipotle aioli and fresh-roasted corn salsa. Served with cilantro-lime aioli and fries.
Lobster Tacos –Okay, so if I did have to choose my favorite of the three, this would be it. It's a personal choice. I think this dish did the best of giving a Mexican flair to a lobster dish. The combo of everything served together totally impressed me. Yummmo! Just looking at the pic makes me want to jump into the car and head back to Chevys!  It's served with house-pressed flour tortillas stuffed with shredded lettuce and cabbage, topped with Chevys' mexi-style lobster salad. Served with rice, choice of beans and cilantro-lime aioli on the side.
In addition to the new lobster dishes you can find all of your favorites on the menu for your non-loving lobster friends and family. Ironically, my son insisted he would not like any of the lobster dishes….until they arrived! We have a new lobster fan in the family thanks to Chevys. As for dessert, Chevys Fresh Mex cannot be beat, so definitely leave some room. You will not want to skip the Fried Ice Cream or the other delicious choices. There was NOT much sharing when it came to dessert. Everyone had their own and pretty much kept to it.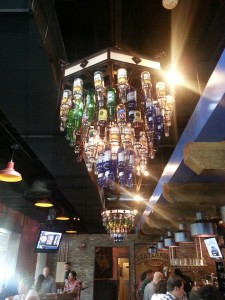 We were also wowed with the redesign of Chevys Fresh Mex in Clifton, NJ. We were given some inside info that the lamps and many of the decor pieces were brought in directly from Mexico.  Our family especially loved the upside down bottle lamp. What an amazing piece of lamp art! Thank you Chevys for bringing Mexico and bringing lobster to New Jersey! We will definitely be back! Yum! Thumbs Up from this family! Check out everything Chevys Fresh Mex right here: http://chevys.com 
Disclosure: Diane Sullivan was invited by Chevys Fresh Mex to review the new limited time Lobster Fiesta. All opinions are that of my own and completely honest. No compensation was given for this post. Contact me at Diane@3decades3kids.net or 3decades3kids@gmail.com and everywhere else as @3decades3kids. Special thanks to Chevys for the delicious dinner.