Necknapperz The Perfect Travel Friend For Kids!
Our family loves to travel. Most of the time we are in the van for hours having fun on our roadtrips. Along the way we are always looking for ways to make the trip more fun and more comfortable for our kids. My youngest daughter falls asleep all the time in the car and I am constantly trying to come up with ways to keep her head in one spot. Most times I end up in the middle van seat with my arm holding up her head. It's not a great position to be in. When we came across Necknapperz I could have not been any more thrilled about testing it out. Our Necknapperz arrived just in time for our last trip.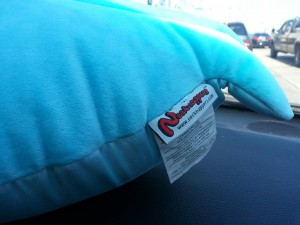 Necknapperz is a great travel item for kids! It's a friend while they are awake and a supportive neck pillow when they are asleep.  Kids can snuggle and play with the adorable animals and then easily transform it from a loveable plush animal into an ergonomic neck pillow at naptime.  Bonus: Most kids will be able to transform the Necknapperz from plush to pillow by themselves! We checked out the dolphin Necknapperz which was adorable. They are also available as a unicorn, wolf, monkey, lion, elephant, piggy and more. Check out all the choices here: http://www.necknapperz.com/brands/Neck-Napperz.html
When I asked my daughter what she thought of Necknapperz – Her response was, "Absolutely adorable! Can I get them all?". I kindly explained to her that she only had one neck, but who knows, we may have a few friends in the future. By the way, Mommy tested it out, too! Very comfy. Necknapperz combine ultra-soft fabrics with space-age micro-beads and high quality craftsmanship for the best in comfort and support for your kids. In addition, each Necknapperz neck pillow unzips and completely transforms into a huggable plush toy unlike some of the predecessors that simply present a pillow that folds in half to produce an imaginary friend like Pillow Pets or provide the neck pillow with the head of an animal character on the end. If you are looking for a neck pillow that transforms to and from a cute animal, definitely give Necknapperz a go. You will not be disappointed! Check them out on Facebook here: www.facebook.com/NeckNapperz.
Disclosure: Diane Sullivan was given a Necknapperz and compensated for this post. All opinions are that of my own and honest. Contact me at Diane@3decades3kids.net or @3decades3kids across Social media platforms.