Disney Princess Palace Pets Magical Lights Pets
Anyone that knows me, knows how I live in a basic Princess inspired house. Ever since Emily was born our house has transformed from a boy's world to pink everywhere. We have every princess known to mankind and I am loving every minute of being a girlmom after all of these years. Emily has been a total fan of the Disney Princesses since birth and just about melted when she first heard about  Blip Toys' Disney Princess Palace Pets. How could she resist them. They are just simply adorable. We have sets of the originals and the glitter ones and now I am happy to say we have the new glowing ones living among us.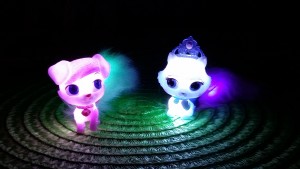 These glowing 2.5" figures have a vibrant new look! There's a lot of shine coming through these Magical Lights Pets! They are frosted from head to toe with glitter accents and sparkling hair that light up with the push of a button. Girls can "crown" their royal pets with the removable tiara that also lets their glow shine through! The fall 2015 collection features: Sultan (Jasmine's tiger), Matey (Ariel's puppy), Slipper (Cinderella's kitty), Pumpkin (Cinderella's puppy), Bibbidy (Cinderella's pony), Summer (Rapunzel's kitty), Blondie (Rapunzel's pony) and Bloom (Aurora's pony).
Emily and I just have a wonderful time role playing with all of the princesses and her new Disney Princess Palace Pets Magical Lights Pets. We have had night time parties where they light up the room with their glow and Em plays for hours having each of the palace pets accompany their official princess. We are both looking forward to the release of the newest Palace Pets toy- their very own castle. Who's more excited Mommy or Emily? It's pretty much a tie at this point! So, who else is in? I did not think they could get any more adorable with the glitter- but, the light up is just a total win with us! Check them out here: disney-princess-palace-pets-magical
Disclosure: Diane Sullivan was sent samples in order to complete this review. No compensation was given for this post. Please contact me at Diane@3decades3kids.net.