LBX: Little Battlers eXperience 3DS Game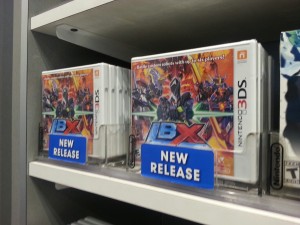 Gaming and our family go hand in hand together. From oldest to youngest we all love it. Of course Nintendo is a household word around here and so is game chatting about the latest games and new releases. Today our family had the chance to take part in the LBX: Little Battlers eXperience at the Nintendo World store in Rockefeller Plaza NYC. We had the chance to watch an exclusive screening of two new episodes of Nicktoons' LBX: Little Battlers eXperience TV show. The new season of premieres Sunday, Oct. 18th on Nickelodeon.  Before and after the screening we had the opportunity to  play the new Nintendo 3DS game based on the show. There were experts from Nintendo to help out and they even had an on-site drawing for a chance to win a cool mini robot figure! We did not get lucky this time, but the screening and playtime were priceless.
We were introduced to the game by an expert from Nintendo who clued us in on the  Little Battlers eXperience. The new game lets players customize their own mini robots using more than 4,000 parts and battle other players' robots. Players can also battle against their friends or team up with in-game characters that are also from the TV series for local 3-on-3 battles. We were able to play in teams of three to battle others at the event.
So, this is the breakdown on the show just in case it is something new for you. In the new season of LBX: Little Battlers eXperience, Van Yamano is on his way to the exclusive release of a ground-breaking new prototype when the onslaught of unknown enemies and machines that seem to think for themselves make the threat of impending chaos greater than ever. Thankfully, the next generation of LBX players is on the horizon. With his friends and a new LBX by his side, Van is ready to battle on!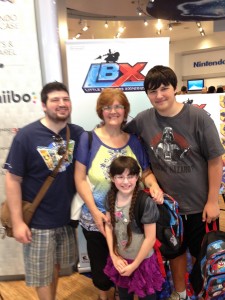 Both the show and game are both boy and girl friendly. Emily had an awesome time watching the screeners and playing the just released 3DS game- LBX: Little Battlers eXperience. It also seemed at the event that anyone who was already a fan of Pokemon loved the new game instantly! I did try it myself on the three battle three game and it was superfun! Game on! 
Disclosure: Diane Sullivan is a Nintendo Gaming partner. Our family is a #GamerFamily. No compensation was given for this post. All opinions are that of my own and honest. Our family was extended an invitation to attend this special event at Nintendo World NYC. Please contact me at Diane@3decades3kids.net and @3decades3kids everywhere else.