Project Mc2 Now On Netflix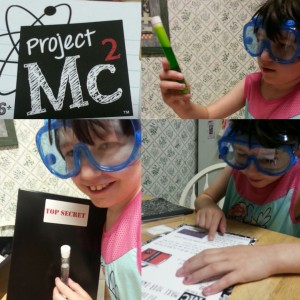 Recently Netflix introduced another Netflix Original, Project Mc2(Project Mc 2–> squared!)! It's sure to be a hit with the tween and teen crowd. Emily and Mommy (me) watched all the episodes and loved it! Being a boy mom for so long before Em arrived, I did not realize how tween girls were portrayed. Project Mc2 helps girls along the way of growing up showing that is perfectly fine to be cute and be smart!  Smart is the New Cool! Project Mc2 is a new live-action original tween series featuring four super smart and science-skilled girls who happen to also work for a top-secret spy organization (NBD).
Project Mc² is a fresh take on the typical tween girl show you're probably familiar with. The series has S.T.E.A.M. (Science, Technology, Engineering, Arts and Math) organically woven throughout the storyline, making it fun and breaking the stereotype that being smart, funny, stylish and capable are mutually exclusive. Project Mc² reflects today's tweens in a relatable way, giving girls four empowered female leads to look up to.
After watching two of the espisodes (there are three total), Emily was totally shocked by a surprise box sent to us from Netflix. Being part of the Netflix Stream Team is always filled with surprises! She did not know what to expect as she opened the black box labeled, "Top Secret". Honestly I did not know what to expect either. But, I knew it had to do with Science so it had to be good. Spending part of my twenty year teaching career as a Science teacher has me smiling ear to ear about this new Netflix show.
The box was opened and contained so many S.T.E.A.M. activities- experiments galore! There were even a pair of goggles. So, googles on- Emily proceeded to conduct the experiments one after the other. First up was a test tube glitter tornado. Next up was placing a penny in a peti-dish and monitoring it as it changes to green. Just the fact that my daughter was in the kitchen using the words test tube, googles, and pedi dish really made my day. Who ever knew my little scientist was so good at conducting experiments and recording results. Wow Moment for Mom!
I was glad to find out that even if we were not lucky enough to get that super surprise in the mail, we could still grab a lot of information about science and experiment ideas on the site. http://www.projectmc2.com/ There are missions, quizzes, information and more. You don't have to have Netflix in order to check out the site, so everyone is welcome to join in on the fun and learning.
Disclosure: Diane Sullivan is a member of the Netflix Stream Team. No compensation was given for this post, but products are sent to review and help facilitate a better understanding of chosen Netflix shows. We love Netflix and love to share everything happening. Check out all about Netflix here: https://www.netflix.com/ Contact me at Diane@3decades3kids.net and @3decades3kids across the Social Media networks.