Nintendo Animal Crossing Amiibo Festival! This post is part of our #NintendoKidReviewers series and written by Emily Sullivan-age 9. Emily is an official game reviewer for Nintendo America.
I received Nintendo Animal Crossing Amiibo Festival a few weeks ago and could not wait to play it! The game is 1-4 players with fun minigames!In the game the object is to collect happy points and bells.On each corner of the game board village you will get a corner of the stamp when you get all four corners of the stamp you will get a happy point bonus!You choose the month you will be playing in and will earn emotions and different outfits on the amiibos you use.There are eight different Animal Crossing Amiibos to use in the game.There are Amiibos of, Isabelle, K.K.Slider, Mabel, Tom Nook, Digby, Lottie, Reese, and Cyrus. If you have enough Happy Tickets you can open fun attractions.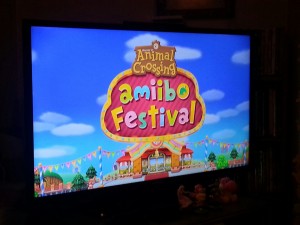 You don't need any happy tickets to play the Balloon Island game which is really fun! The other attractions usually need three, four, or five happy tickets to open and are also super fun! The attractions are Acorn Chase, Mystery Campers, Balloon Island, Quiz Show, Fruit Path, Amiibo Card Battle, Desert Island Escape, and Resetti Bop. All attractions can be played with Amiibo Cards.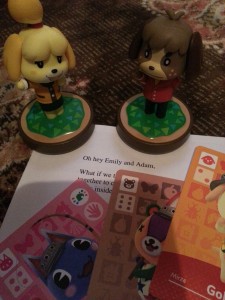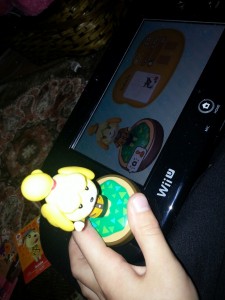 Amiibo Cards are like Amiibos, they can be used in different games, for different things. In Animal Crossing Amiibo Festival the Amiibo Cards can be used to play the attraction minigames. At the beginning of  the game the host or hostess will ask if everyone playing knows how to play the game, if you say no the host or hostess will explain the rules to the player or players. During the game watch out for purple spaces which are the bad spaces and pink spaces are good spaces, while Special Event spaces are usually green with a picture of the event they are for.Every Sunday Joan the turnip seller comes and you can choose to buy or not to buy the turnips. There is also twice dice day when you roll two dice instead of one! A fortune teller named Katrina that comes around with tarot cards on special event spaces.Redd the fox who sells special cards to you and the other players comes around sometimes too!Srunk comes to give you cards! You can use the card you earn from a mini-game or buy for 100 bells. You can carry two cards at one time. In the middle of the game there might be a bug off or a fishing tourney,during them you will land on a green, silver, or gold space. At the end of the game the host or hostess will announce who is in first, second, third, and fourth place.  My favorite part of the game is collecting all the Happy Points with the Amiibo characters! Check out more about Animal Crossing Amiibo Festival here. 
Disclosure: This review was written by Emily Sullivan, age 9. Emily is an official Nintendo Kid Reviewer for Nintendo America. Emily hopes that this review helps your children to understand the game! This post is part of the #NintendoKidReviewers series. No compensation was given for this post. Samples products are sent to the house in order for the kids to review them. Contact me at Diane@3decades3kids.net and @3decades3kids everywhere else.