Camelback Lodge and Camelback Mountain- Swim and Ski- A Perfect Winter Getaway For The Family
Pack your Ski Googles and your Swim Googles! Tube in the water and tube on the snow!  This winter has been a real challenge for our family. The snow has been hiding from us, but it is here now and we love to play in it! The boys love skiing, snowboarding and tubing. Emily is obsessed with skiing and snowtubing! We love winter just as much as summer. Every winter there is one place our family loves to go- Camelback Mountain. This year is more amazing than ever because of the newly opened Camelback Lodge Resort.
If you are looking for a place to visit during the winter Camelback Lodge is a great choice. Our family loves to swim and our family loves all things snow! Visiting Camelback Lodge was a perfect choice for us. Let me tell you about our weekend! We arrived Saturday morning and checked in at about noon. Although our room would not be ready until check in time at 4 pm, once we had our wristbands we headed to the indoor waterpark, Aquatopia! What a perk. 84 degrees and loaded with a range of choices for everyone in the family. My personal favorite at Aquatopia was the Lost River that takes you on a journey through an underground river complete with iguanas! Don't miss it when you visit. My boys headed for the thrill waterslides. My daughter and I spent a while in the wave pool. We even rented the latest addition, the Luma Tube that lights up in different colors. It's a must do for anyone that loves things that light up. Before leaving the waterpark everyone hit the Flowrider! No complaints!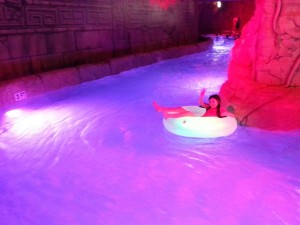 After drying off we headed out the lodge to go snowtubing. You can take a shuttle down the hill to the snowtubing, or drive your own car. Both are easy choices. We took a 4 hours slot which was plenty of time to snowtube to our hearts content! They also have a warm up section that sells hot cocoa, churros, sweets and more. There are also photographers on hand to capture your fun time!
By the time we finished snowtubinng our room was ready. The room we had was the basic suite which included two queen sized beds and a pull out couch. We had a gorgeous mountain view. I would suggest asking for the mountain view but just so you know, it's a long walk from the lobby. It's worth the view!! Before we hit the room we stopped at Hemispheres, the buffet restaurant for dinner. A lot of choices and the food was delish. There was everything from a pizza bar to personal choices created by a chef in front of your eyes. The desserts are also incredible, so save some room. My daughter was obsessed with the make it yourself ice cream toppings bar. We were lucky enough to be seated at a table by the windows that overlooked the snowtubing. Nice view, Good food- made for a perfect dinner. There are quite a few dining areas at Camelback Lodge. Please check out our Ski In-Ski Out Dining Experience at Trails End Pub and Grille here.
Then it was up to the room for a little R&R. The room was roomy so no was got into each other's space. That's always a good thing. Next day was check out at 11am. We had a skiing reservation and lift tickets for later in the afternoon. We also had reservations on the Mountain Coaster, a fun filled ride that rolls in any time of year. First up was the arcade, then mini golf! There were quite a few activity choices. While my kids took on a lazer challenge, hubby and I hit the indoor/outdoor hottub! Loved it! There was even a light snow falling as we enjoyed the mountain view from the outside! The outdoor hottub is a must do! It's located in the way back left hand side of Aquatopia. So our trip was a definite success. We swam, snowtubed and skied. Everyone was happy, but we definitely were wiped out by the end! Congrats Camelback! You are doing something right! How do I know? My family is already asking when we can go back- a true sign that it really was an awesome time. See you soon Camelback Lodge! Check out more about Camelback Lodge resort, Aquatopia, and Ski Camelback here.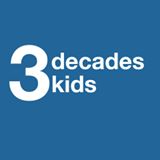 Disclosure: Diane Sullivan/3decades3kids is a Camelback Lodge Resort Partner Blog. All opinions are that of Diane Sullivan and in no way reflect the opinions of Camelback Lodge resort. No compensation was given for this post.   Hotel resort room, dining, and snow activities were provided by Camelback Lodge in order to facilitate this review. This post is part of our #Roadtrip2fun series. Contact me at Diane@3decades3kids.net and @3decades3kids across social media. Thank you, Camelback Lodge.