Snowland At Great Wolf Lodge: A Magical Experience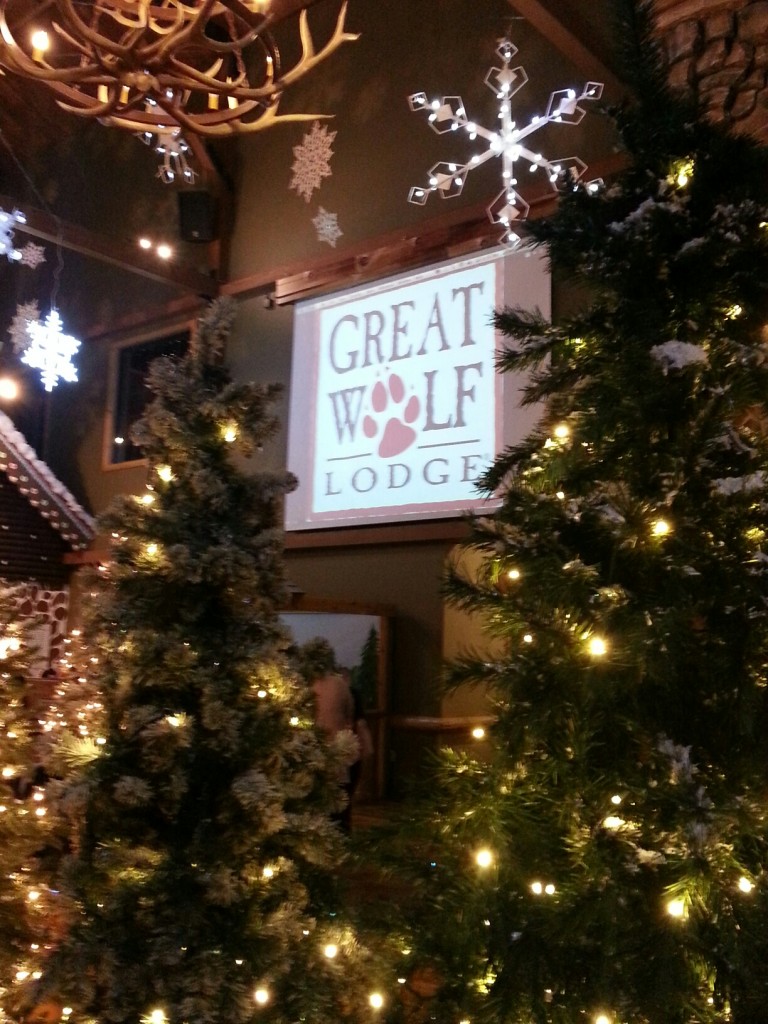 This past weekend our family visited one of our favorite getaway spots in the Poconos,  Great Wolf Lodge.  Saturday was the kick off of their winter holiday season,  Snowland. There is no time more magical to visit Great Wolf. Just entering the lobby will take your breath away between the floor to ceiling tree, lifesize Gingerbread House,  grand fireplace and the array of  glistening snowflakes that make you feel like you just stepped into a winter wonderland.
Visiting during Snowland is different than visiting at any other time of year. Yes, you still get to hang out in the 84 degree waterpark no matter how much snow is outside, there's MagiQuest and many other activities, but something is very different – it's just a feeling of happiness that glows through the lodge. There are also special activities you will want to check out when you stay during Snowland. Santa will be on hand on the weekends for pictures and to listen to all of his little friends' requests. A red mailbox is in the lobby that will deliver your message directly to the North Pole. You can stop by Great Wolf Kids where they will provide you with themed paper to write your Dear Santa letter on. So adorable!  We happen to be there the night Santa arrived via flashing lit fire truck, marching band and a bunch of characters. What a night!
One of our favorite parts of Snowland is seeing the life sized Gingerbread House.  The house is made from gingerbread baked right inside the local GWL. It is adorned by cookies, candies, and over fifty pounds of Peeps!  Your family can even dine inside by making a reservation for one of the many seating. The is a ten dollar fee that you can feel good about. It goes right to the Ronald McDonald House. We have dined there a few times and it is just a beautiful experience. Your family will definitely be talking about it for years to come.
Now for the ultimate in a magical experience. This year Great Wolf Lodge has added a new add on to your room. For $40 you can add a Snowland package on. If you are reserving a family suite you definitely want to request this. There are a limited amount so check it out fast. The Snowland package transforms your room into an incredible snowland complete with a decorated light up tree, the beds and other places adorned with light up pine swags, snowland themed blankets and shower curtain. As if that is not wonderful enough there are also take home prizes including a full size hard cover book to read over and over again and a snowland embroidered blanket. Our favorite part of the Snowland package was the cookies & milk delivered to our room by a GWL character. Our delivery was by Oliver, but any of them could have shown up. It was totally fun for everyone in the room! So, if you are heading the GWL this Snowland season, definitely give a call and check this out. https://www.greatwolf.com/
Disclosure: Diane Sullivan is a Great Wolf Media Partner. All opinions are that of Diane Sullivan and honest. No compensation was given for this post. A deeply discounted room rate was provided and other on site perks. Contact me at Diane@3decades3kids.net and @3decades3kids everywhere else. Don't forget to follow our #Roadtrip2fun tag for all of our travel stories. Happy Holidays! Very special thanks to the incredible staff and management at Great Wolf Lodge Poconos.