You Are Invited To The Advance Screening of Risen!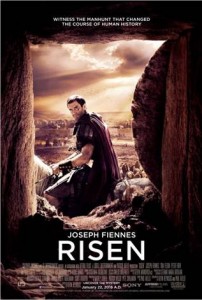 You Are Invited To The Advance Screening of Risen
Thursday, February 4th
AMC Garden State 16
4000 Garden State Plaza
Paramus, NY 07652
7:30 pm
RSVP http://www.sonyscreenings.com/Risen3Kids3Decades
Download free screening passes on the link above. Please remember to arrive early. Event is overbooked to ensure a full house.
 Risen is the epic Biblical story of the Resurrection, as told through the eyes of a non-believer.  Clavius (Joseph Fiennes), a powerful Roman military tribune, and his aide, Lucius (Tom Felton), are tasked with solving the mystery of what happened to Jesus (referred to by the Hebrew name Yeshua in the film) in the weeks following the crucifixion, in order to disprove the rumors of a risen Messiah and prevent an uprising in Jerusalem.
Risen stars Joseph Fiennes (Shakespeare in Love), Tom Felton (Harry Potter), Peter Firth (The Hunt for Red October;"MI-5"), and Cliff Curtis ("Fear the Walking Dead").
Disclosure: Diane Sullivan/3decades3kids is a Sony Partner Blog.  No compensation was given for this post. We love to connect our readers to advance screenings. Contact me at Diane@3decades3kids.net and @3decades3kids across social media.