Our Day Aboard Disney Cruise Line's Disney Magic- Now Sailing From NYC!
The New York City shoreline just got a little more magical with the view of Disney Cruise Line's gorgeous Disney Magic adorning the dock of Pier 88! Recently I had the chance to spend the day on board the Disney Magic. What a amazing day! Our morning began with a guided tour of the enormous ship that holds over two thousand guests. Passing by the grand entrance was breathtaking, especially decked out for Halloween with an interactive Jack-0-lantern tree. The buzz of guests exiting the ship gave me goose bumps at the thought of the pixie dusted memories their families just had the chance to create together. Children passing by with Captain Mickey and Elsa stuffies, little girls in Cinderella gowns and moms, dads and grandparents wearing their finest Disney ears. The sight of it all just warmed my heart.
Our first stop was the Oceaneer Youth Club, a club designed for children ages 3-12, where they can stay and play for as little or long as they would like while their parents take advantage of time alone or at one of the finer dining experiences on the ship. With saying that, if I were I a child I but you would never get me out of the place! It was truly amazing with a bigger than life version of Toy Story Andy's room complete with his bed on the top and a slide down through Slink! There was also a dance and game floor, Pixie Hollow, and Mickey Mouse Clubhouse.  My favorite part of the room was the The Marvel Avengers Academy where you can virtually suit up into the top-secret command post of S.H.I.E.L.D. and prepare to complete your battle. You will even get an official card upon completion!  You can also find the weaponry of some of your favorite Avengers including Thor's hammer, Captain America's shield and Iron Man's armor. There are even computer games and arts and crafts. During our visit there was a surprise visit by Captain America himself! This completely put me in the mood for the upcoming Marvel Day at Sea coming in 2017! My kids were super jealous but I did make them proud by fighting like the superhero they trained me to be! Let's not forget, I was a boymom for sixteen years before my little princess arrived!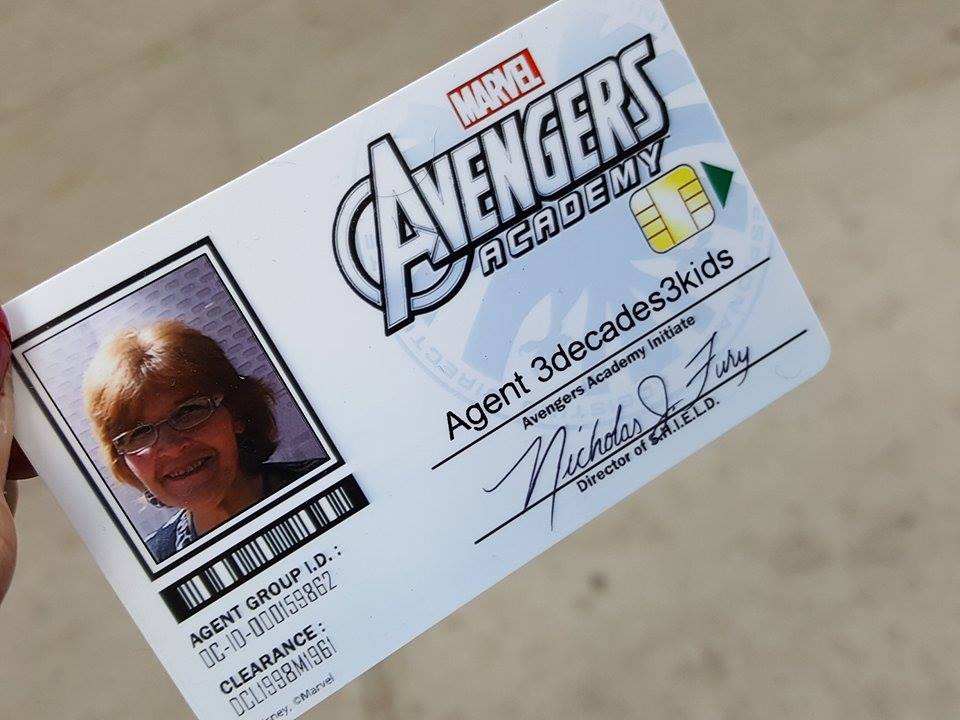 As we toured decks 9 and 11 I could just envision the families splashing in the pools, dancing to the music that played non stop and just cherishing the precious moments only a Disney cruise could deliver. We were shown many pool areas, some for families and also adult only. Disney cruise is not just for children, it's also great for adults with many adult options in every venue. One example is the Mixology Class at Keys we were treated to, where we were able to test out our bar-tending skills. We learned tips and tricks to making a perfect cocktail, mojito, and even a layered triple shot! Wooza! Did I mention you can sample of fully enjoy each of the five drinks you create firsthand. This is something I highly recommend if you do cruise with Disney!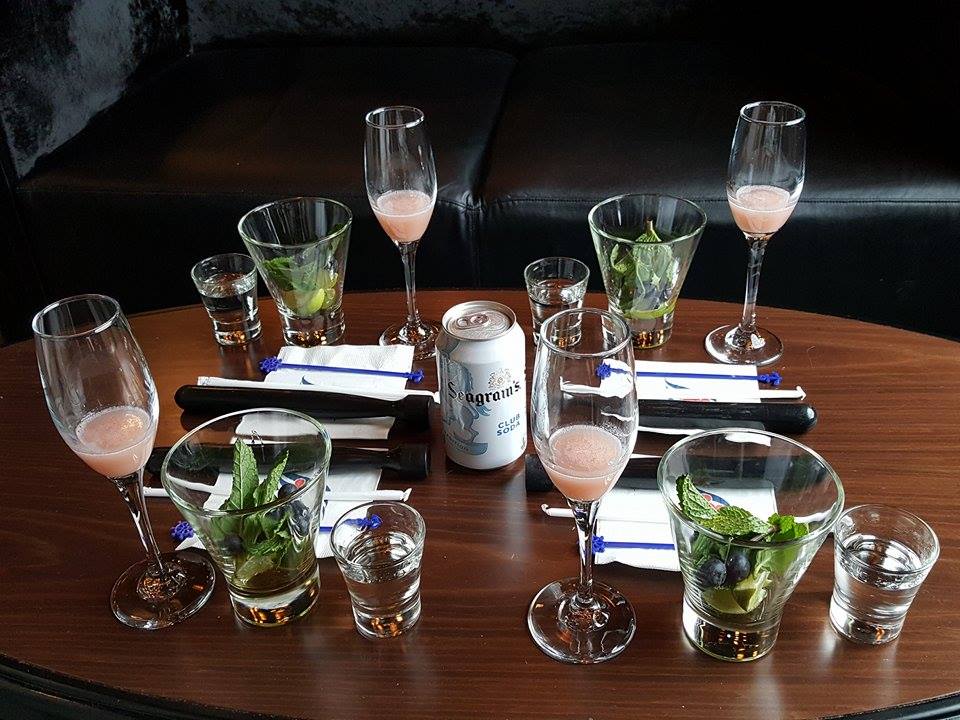 Our group was treated to an amazing treat! Playing now on the Disney Magic is one of my favorite stories, Tangled! With original music from the incredible Alen Menken. The audience was outfitted with overflowing buckets of hot popped popcorn and drinks of choice and it was not long before this musical feast began. The live show does not exactly follow the Disney movie, Tangled but does take its own life in this original version. We loved it and judging by the thunderous applause coming from the onlookers I would have to say that this show would definitely be on the top of my list if I were heading to the Disney Magic again. Tangled The Musical is a must do!
Of course before the show started we did have privi to some top secret information!! In 2017 for the first time ever Disney cruises will host Marvel Day at Sea! We were treated to a sneak peek mini show with superheroes Captain America, Spider-Man entering via webbing and Thor with hammer in hand! If that was a preview, I can't even begin to imagine how amazing the real thing is going to be.    There will many Marvel themed activities for both children and adults during the event. There will even be Marvel themed food and drinks. A Marvel movie marathon will take place leading up to the latest blockbuster that premieres in November 2017. Marvel characters will be on hand for photo memories and an up close to the characters experience. There will also be a Marvel themed dance party and FX fireworks that will include heroes and villains. Count me in!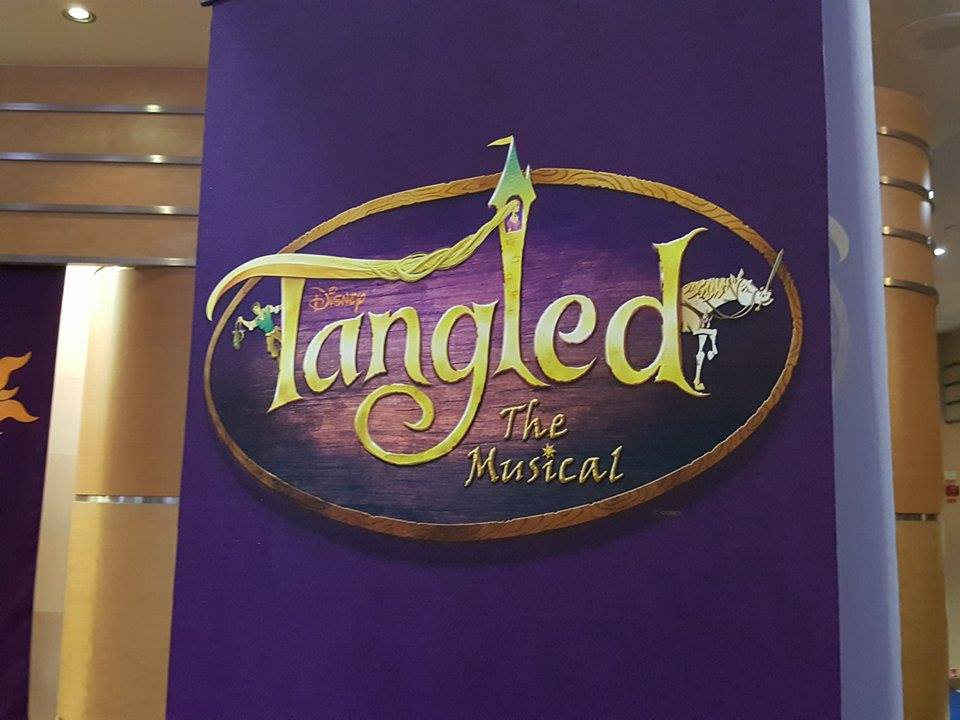 Lunch was served at the Animator's Palate, one of the many restaurants to choose from on board of the Disney Magic. There is something so amazing about this restaurant that captivated both adults and children during our time spent there. After being seated the waited directed each one of us at the table to our placemat. He gave us some directions to draw a character using the marker provided. No one really knew what to expect but we all spent the next few minutes creating a rendition of ourselves. My character had glasses and of course a Mickey Tee! We handed in the placemat and continued onto our delicious appetizer dish which consisted of a sampling of a few different mini appetizers.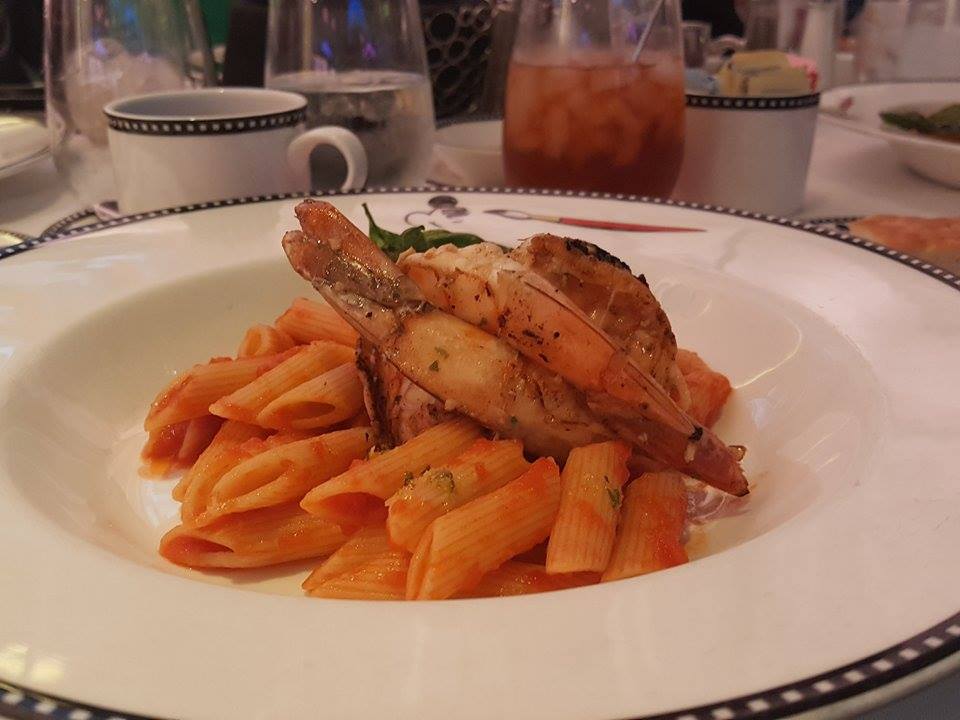 My entrée choice was penne with garlic shrimp, which was absolutely incredible. As we chatted and dined the many screened that surrounded the dining area kept us entertained with clips and songs from Beauty and the Beast, Lady and the Tramp and more. Suddenly everyone noticed that the characters we had created before the dining began were actually coming to life on the screens. Each of the  screens highlighted the guests seats in their immediate area. Everyone loved the experience watching themselves march across the screen, dance and interact with Mickey Mouse and his friends. It was such a treat. Speaking of treats, the dessert sampler was mouthwatering. Bravo, Animator's Palate staff, you are top rate!You can check out our fun day aboard the Disney Magic sailing from NYC Pier 88.
So if you family or your friends or just you (because going alone may be the best decision ever), are looking for a magical experience on the high seas look no farther than right in our own backyard on 12th Ave, Pier 88! The Disney Cruise- Disney Magic is waiting for you, it's waiting for your family. Memories will be made that will last forever. As you sail away from the hustle of NYC you will be leaving your stress on the street and trading it for an unplugged (if you choose) experience where you can spend time with the kids, friends, family or alone. On that note, there are some SPA experiences that will drift you into paradise…..Why did I have to disembark?? My heart was filled with happiness as I exited the Disney Magic listening to the families being welcomed one by one onto the ship. I could not help but think of the magic that was about to take place for those lucky people……
There is nothing in the world that can compare to a magical Disney experience. Check out more about Disney Cruise Line Here.
Disclosure: Diane Sullivan/ 3decades3kids is a Disney Partner Blog and Disney Social Media Mom. All opinions are that of Diane Sullivan and do not reflect the opinion of the parent company represented. A media invitation was extended for a day visit on the Disney Cruise- Disney Magic while in port. No compensation was provided for this post. We love Disney and always enjoy sharing information with our readers that provide a first hand account of our experience.