High Strung Movie In Theaters April 8th!
Being a part of the NYC rush almost on a daily basis it was easy for me to fall in love immediately with High Strung. Set in the backdrop of New York City and filmed in many of my favorite places that include Lincoln Center, I could not help but be taken by the story from the very first moments. In a movie that highlights two unlikely people who meet by chance I found myself rooting for the raw talent that was showcased throughout the movie. We all know about what it takes to succeed in big cities. Only the best of the best can make their names heard. High Strung shows us the path of two radically talented people from opposite sides of the tracks need to find harmony to achieve their dreams.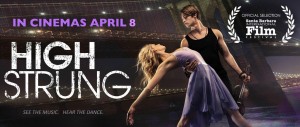 As the movie begins we find out that Ruby Adams  is a dancer from the Midwest on scholarship, living her first day in New York City. Johnnie Blackwell  is a British musician, playing for money in the subway tunnels. Ruby's world is classical and disciplined; Johnnie's is improvisational and street smart. When a hip-hop battle gone wrong throws these two artists together, they immediately clash but can't deny it when sparks begin to fly. Their lives quickly get entangled in the pitfalls that come with competing in New York City. With the help of a dynamic dance crew called The Switch Steps, Ruby and Johnnie must find a way to save Ruby's scholarship and keep Johnnie from being deported.
This movie hit a special note with me after spending years teaching at a Preforming Arts School. This movie is for everyone! If you are in the NYC area you can see High Strung at the AMC Empire 25, April 8th 7:05pm with a Q&A with Nicholas Galitzine and filmmakers Michael & Janeen Damian! You can grab photos and win some awesome prize giveaways.
If you love great music, incredible dancing and just a wonderful feel good movie, please grab your friends and head to the theater on Friday April 8th to see High Strung. You will not regret it. In an action-packed extravaganza combining cutting edge hip-hop with contemporary and classical dance, the two must navigate their opposing worlds and prepare for a competition where winning or losing will change their lives forever. Check out all things High Strung right here: http://www.highstrungthemovie.com/
Follow the conversation over these Social Media Platforms and use the hashtag #HighStrungMovie to get up to date details about the movie!
Follow on Twitter  @highstrungmovie 
Follow them on Facebook
Follow them on Instagram
Disclosure: Diane Sullivan/3decades3kids is a High Strung Movie partner blog. All opinions are that of my own and honest. This post is a Paid Influencer Campaign and sponsored. Contact me at Diane@3decades3kids.net and @3decades3kids across social media. #HighStrungMovie