You Are Invited To The #NYC Advanced Screening of Bad Moms AND Amazing Wine Purse From Vivajenzz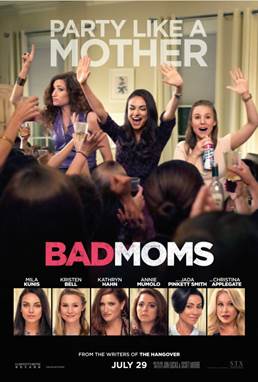 Calling all Bad Moms! Here is your chance to join together for a fun time and a night of laughs! Please arrive early. There will be mini-makeovers before the screening.
Giveaway: One lucky winner will be selected to win a wine purse from Vivajenzz.  Vivajennz is the perfect concealed wine purse for Bad Moms, or a helpful beverage tote for mommy and the kids. Available in many styles and ready for any adventure. For more information, visit vivajennz.com. Part of all Vivajennz proceeds go to autism awareness. vivajennz.com
In this new comedy from the writers of The Hangover, Amy has a seemingly perfect life – a great marriage, over-achieving kids, beautiful home and a career. However she's over-worked, over-committed and exhausted to the point that she's about to snap. Fed up, she joins forces with two other over-stressed moms on a quest to liberate themselves from conventional responsibilities – going on a wild, un-mom-like binge of long overdue freedom, fun and self-indulgence – putting them on a collision course with PTA Queen Bee Gwendolyn and her clique of devoted perfect moms.  Motion Picture Artwork © 2016 STX Financing, LLC.  All Rights Reserved.  "In Theaters July 29" Rated R.
You are invited to the NYC Advanced Screening of Bad Moms!
Thursday, July 21
7:00 p.m.
AMC Loews Lincoln Square
1998 Broadway, NYC
You can enter here: http://stxtickets.com/main/sweepstakes/nnrsj60324
Please remember to arrive early. Advanced screening passes are free but are overbooked to ensure a full house. When the house is full the line is stopped, but you should not have a problem if you arrive early. Have fun! Tweet me at @3decades3kids and let me know how you enjoyed the movie!
Twitter.com/BadMoms
Facebook.com/BadMoms
Instagram.com/BadMoms
YouTube.com/STXEntertainment
Pinterest.com/BadMoms
BadMoms.movie
Vivajennz is the perfect concealed wine purse for Bad Moms, or a helpful beverage tote for mommy and the kids. Available in many styles and ready for any adventure. For more information, visit vivajennz.com. Part of all Vivajennz proceeds go to autism awareness. vivajennz.com NO PURCHASE NECESSARY TO ENTER OR WIN. Begins on or about 7/19/16 at 5:00 p.m. ET and ends at 5:00 p.m. ET on 7/20/16. Open only to legal residents of the 50 US (D.C.), who are 18 years or older, who have received advance screening tickets to "Bad Moms" at AMC Loews Lincoln Square. Limit one (1) entry per person. Prizes are non-transferable and promotion parties reserve the right to cancel, suspend or modify the sweepstakes.  Entrants agree to release all promotional parties from any liability resulting or arising from the sweepstakes or the prize. Void where prohibited
Facebook: https://www.facebook.com/vivajennz
Twitter: https://twitter.com/vivajennz
Instagram: https://www.instagram.com/vivajennz/
#Vivajennz

Disclosure: Diane Sullivan/3decades3kids is a Bad Moms partner blog. All opinions are that of Diane Sullivan and do not reflect the opinions of the parent company represented. Screening passes provided by Bad Moms Movie. No compensation was given for this post. We love movies and want to bring them to our readers through advanced screenings. Contact me at Diane@3decades3kids.net and @3decades3kids across all social media platforms and on Snapchat: ThreeDecades  3decades3kids.net