You Are Invited To The NYC Screening of Miracles From Heaven
You Are Invited To The NYC Advanced Screening of Miracles From Heaven
March 14 at 7pm
 AMC Loews 34th
Rated PG. Great for Tweens and up! 
RSVP LINK- Click here to claim a four pack of passes http://www.sonyscreenings.com/MFH3D3K
Please be advised that all screening passes are provided free of charge. Please arrive early since screenings are overbooked in order to ensure a full house. When capacity is reached the line will be stopped. Please tweet us at @3decades3kids to let us know what you think of the movie.
Have you heard about Miracles From Heaven? I have been hanging on every word of this movie since I first heard about it. Miracles From Heaven is based on the incredible true story of the Beam family.  When Christy (Jennifer Garner) discovers her 10-year-old daughter Anna (Kylie Rogers) has a rare, incurable disease, she becomes a ferocious advocate for her daughter's healing as she searches for a solution. After Anna has a freak accident, an extraordinary miracle unfolds in the wake of her dramatic rescue that leaves medical specialists mystified, her family restored and their community inspired. In theaters March 16, 2016.
The film features an all-star cast including: Golden Globe and Screen Actors Guild awards winner Jennifer Garner (Dallas Buyers Club, TV's Alias), Martin Henderson (The Ring, TV's Grey's Anatomy), Imagen Award winner Eugenio Derbez (Instructions Not Included), Academy Award and Golden Globe nominee Queen Latifah (Chicago, Bessie) and Kylie Rogers (TV's The Whispers). The film is directed by Alma Award winner Patricia Riggen (The 33, Under The Same Moon) and is produced by DeVon Franklin (Heaven is for Real, Jumping The Broom), Joe Roth (Heaven is for Real, Alice In Wonderland) and Bishop TD Jakes (Heaven is for Real, Jumping the Broom).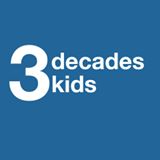 Disclosure: Diane Sullivan/3decades3kids is a Sony Pictures Partner Blog. We love movies and want to provide our readers with free screenings. No compensation was given for this post. Passes are provided if requested. Contact me at diane@3decades3kids.net and @3decades3kids across social media. 3decades3kids.net