The Ride! An NYC Must Do! @TheRideNYC
If you are in the NYC area, living or visiting, be sure to add The Ride to your must do list! You will not regret this fun interactive treat to your senses. Sure, we have all been on tour buses before. This is definitely not your usual tour bus. It's a show on wheels and a one of a kind experience for your friends and family to enjoy together.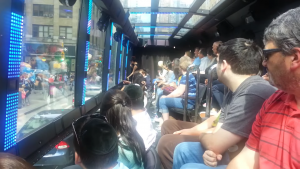 The Ride bus has a few rows of seats all facing the side of the bus. No one faces the front like in a regular bus, you face the sidewalk, it's super fun and has a million surprises. There is stadium style, side facing seating with a panoramic view! You will not need to stretch your neck in order to see since there are floor to ceiling glass windows. Our family did not know what to expect as we boarded this unique vehicle. Speaking of the bus, it's a multi-million dollar custom built vehicle. Our seventy five minutes of interactive fun also gave us a glimpse of Midtown Manhattan and Times Square.  The Ride comes complete with not one, but two hosts that will keep you laughing the entire time- Did I mention that The Ride(the bus) actually is part of the entertainment? It talks, laughs and bounces along to the fun.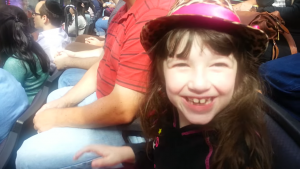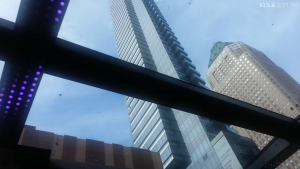 You will definitely have to keep your eyes peeled because along the way you will encounter five to seven street performances that will interact with The Ride, the hosts, and the people on board! If you listen closely you may even hear your own name or the names of your friends. If you are celebrating a birthday or special occasion be sure to mention it to the hostesses.  There will also be trivia, karaoke and more fun than you can ever imagine. Think Broadway combined with a comedy show and city tour, that's kind of what is happening during The Ride. The advanced audio and visual technology is something that will just enhance the trip. There are over three thousand L.E.D. lights, Plasma TV screens, and surround sound! Honestly, this is something you have to be a part of to believe it. As for views- one word- incredible! There was even a giveaway on The Ride. Emily happen to be the winner of an awesome pair of themed sunglasses.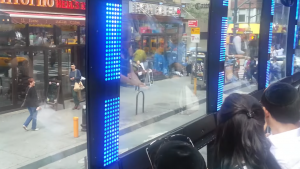 As if the entire experience did not keep us entertained enough, The Ride ends with the entire group of newly made friends singing New York, New York! If you have a chance to be a part of The Ride, do not let it pass you by. Since our ride they have added specialty rides based on holidays and other themes during different months of the year. You can check out all things including times and pricing for The Ride right here: http://theridenyc.com See on The Ride, or on the street! The Ride definitely summons a crowd of waving fans as it passes through the streets of New York City!
 Check out our fun video of a bit of a sneak peek of our fun time on The Ride! Laugh, Joke, Sing, and just Enjoy The Ride!

Disclosure: Diane Sullivan/3decades3kids is a The Ride partner blog. All opinions are that of Diane and are completely honest. They do not reflect the opinions of the parent company represented in this post. No compensation was given for this post. Complimentary passes were provided in order to facilitate this review. Our family rated this NYC event on a scale of 1-10 ( 1 being the best and 10 being the worst). We rated it on being enjoyable, worth the money, and appeal to all ages 5 and up. We gave The Ride a score of 1. Congrats, The Ride. You surpassed our expectations when it comes to entertainment. Please contact us at Diane@3decades3kids.net and @3decades3kids across all social media platforms. 3decades3kids.net