VOLTA Cirque Du Soleil Save 35% With Discount Code! 
Book now and save 35%
It's your last chance to see VOLTA in East Rutherford. Don't miss out! The Big Top is leaving on May 6th.
Freedom is the ultimate achievement! VOLTA is a captivating voyage of discovery. It's about finding yourself, and unveiling your personal powers. Inspired in part by the adventurous spirit that fuels the culture of street sports, the show weaves acrobatics in a visually striking world driven by a stirring melodic score. VOLTA is a story of transformation. It is about being true to oneself, fulfilling one's true potential, and recognizing one's own power to make it possible. Ultimate freedom comes with self-acceptance, and with the liberation of the judgement of others.
 Last weekend our family had the wonderful opportunity to see Cirque Du Soleil Volta! It was a first for our family and we absolutely loved the show. It's a definite for families and perfect for date night. There is a VIP Experience that really makes the night extra special. Volta is a show that you will remember for years to come. I know in our family it will become a tradition to see the Cirque Du Soleil shows when they come to NJ and NYC. Thank you for having us, Volta. We loved the performance.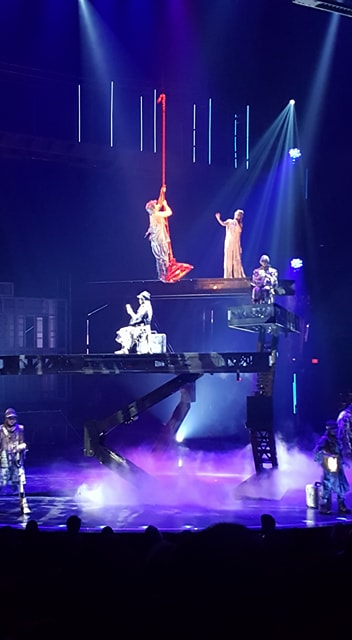 Now it's your chance to take your own family to Cirque Du Soleil. Volta will be at the Meadowlands NJ now until May 6th! It's a great time for all.
Please use  Promo code: CDSLC
Link: https://tickets.cirquedusoleil.com/eventshopper5.html#/select/94e7e728-36ed-4ed1-9f69-1725f645b3af?skin=volta
Disclosure: Media Invite extended by Cirque Du Soleil. All opinions are that of my own and honest. Contact me at 3decades3kids@gmail.com and @3decades3kids across all social media channels.