Chuck E Cheese's Get 50 Free Points When You Say, "I Need A Fun Break"! ($5 required purchase)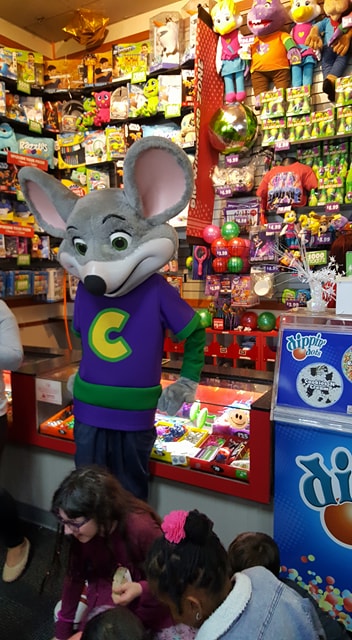 Calling all kids! Who wants to have fun and who needs a break? Calling all parents! Who needs a break? Who wants something for free? We have you covered at your local Chuck E Cheese's. From now through May 6th all you have to do is say, "I need a FUN BREAK" when you order at Chuck E Cheese and you will get a printed coupon good for 50 tickets ($5.00 purchase required). I'm not sure about you, but I was pretty excited about this fun deal! In addition you can still get the 50 free tickets even if you are using a coupon for one of their great deals! 
Recently we were invited to Chuck E Cheese to check out this fab perk ourselves! I put in my order and said, I want a Fun Break and like magic, there it was- a voucher for 50 tickets! Emily was pretty thrilled to have an extra 50 tickets to go prize fun shopping at the end of our visit.
Let me tell you about our visit! We haven't been to Chuck E Cheese in over a year. For the most part everything was the same and great as usual. There were a ton of games to choose from that catered to all age levels. There was a section for basically toddlers and preschool and then the rest was for everyone. Of course there is a birthday section with tables and more tables set up for birthday parties! We have had our share of birthday parties at Chuck E Cheese. If you are thinking of planning one, do it! They make the birthday boy or girl feel like they are a celebrity and they let the parents just chill and take pictures and just enjoy the party! You can even choose from a variety of birthday cakes that include Chuck E Cheese, Hello Kitty, Barbie, Batman and more! So if a themed cake is what you want they have it right there for you. PS- The cakes were supercute! There is also a ticket blaster machine where the birthday child can grab some extra tickets while having the time of their life!
We visited on Sunday. I am happy to say it was not overcrowded. We had plenty of space and did not have to wait for the games. If you have never visited a Chuck E Cheese they are all about kids having fun and also about safety. On the way in your children will be stamped with a number and the parents will also be stamped with the same number. On the way out everyone is checked with a black light for matching numbers. Bravo, Chuck E Cheese! Awesome idea! 
Chuck E Cheese also serves a variety of foods including pizzas and a great salad bar. We ordered the newest item on the menu, the stuffed crust pizza! The crust is stuffed with mozzarella cheese and was SO delish! Our pizza with pepperoni and pineapple, so good! In addition to the salad bar they make the cotton candy right on site in front of you. My daughter thought that was so much fun and so did I! There is a drink bar so you can make you own choices when it comes to soft drinks or iced tea. You can put in your order and  it will be delivered to your table via a number you leave there.
So our day at Chuck E Cheese was filled with laughs, fun and just spending time together. It was great to see all the kids unplugged and just playing their favorite games! We will definitely be back soon, Chuck E Cheese! Thank you for an incredible day! Check out more about Chuck E Cheese here—> https://www.chuckecheese.com/
If you live near a Chuck E Cheese you should definitely head over there and play with the kids for a few hours! There will definitely be a lot of fun involved. Please don't forget to say, "I want a FUN BREAK" when you visit so you can collect your 50 tickets for free! Emily had a fun time choosing her prizes at the end and those 50 tickets sure came in handy!
Disclosure: Media Invite provided. All opinions are honest and do not reflect the views of the parent company represented. Contact me at 3decades3kids@gmail.com or @3decades3kids across all social media networks.