Shop Rite Wholesome Pantry Line Makes Snacking Delicious!
If you know me, you know I am in Shop Rite a million time during the month. I'm constantly grabbing veggies, meats, milk and eggs! It seems like we run through everything in the blink of  an eye. With a family of five I am glad we live pretty close to the local Shop Rite. When I was contacted by Shop Rite to check out their Wholesome Pantry Line I was pretty excited! It was a perfect match. But it felt kind of odd to be asked to review some on the Pantry Line products and not having a clue about what they even were. How can I constantly be in the store and miss the product line. I could not wait for everything to arrive.
Wholesome Pantry line consists of both USDA-certified organic items, and "free-from" products made with simple, clean ingredients without artificial additives, flavors, colors and preservatives. Okay, that makes it easier. I was pretty happy to see exactly what Wholesome Pantry had in store for us. Have you ever heard of them? Have you tried any of the products? This family is all about finding new snacks! How about you?
Although we are trying to cut back on the snacking a bit around here, it happens. Snacking is just part of life, right? I mean, we can't get through the day without some snacks so why not go for a healthier version than what you are presently snacking on!? I am pleased to tell you that when Shop Rite's Wholesome Pantry arrived I was excited! Everything looked great! BUT, looks are not everything. Pretty packaging can only take things so far. How was everything going to taste? Check out everything Shop Rite here: http://www.shoprite.com/wholesomepantry/
I grabbed the family members that were around and had them check out the products with me. We are not exactly and organic family but do buy some products that are organic. ShopRite's Wholesome Pantry line elevates the snacking experience by returning to simple, authentic ingredients. As for the taste, DELICIOUS! I will go product by product but as a whole, everything really tasted good. I could see adding some of the products to my regular shopping list. I was really glad to be introduced to the products because it is definitely something I would have just walked by and probably have over and over. The price point is also affordable, a definite plus!
Since the products launch in December 2016, ShopRite has introduced hundreds of Wholesome Pantry products, extending to nearly every aisle, including frozen, produce, dairy, and meat, along with more than thirty five wholesome snack varieties. HOW did I miss these all this time???!!! So, let's see what everyone in the family thought one by one. Check it out below!
Wholesome Pantry Almond Butter – A delectable nut butter with the perfect balance of flavor, smoothness and creaminess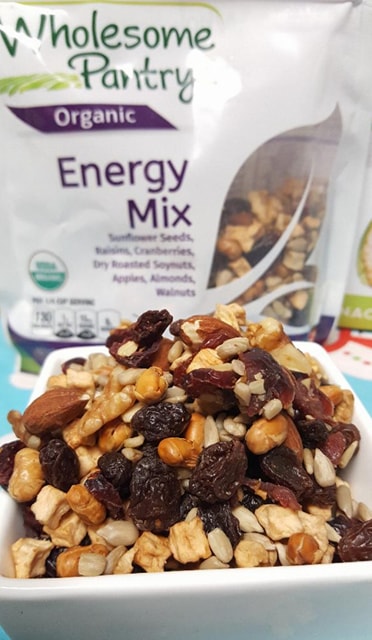 Wholesome Pantry Organic Energy Mix – This was definitely my personal favorite! It's a satisfying mix of sunflower seeds, organic raisins, dried cranberries, nuts and dried apples. It was perfect as an eat alone snack and to top off pancakes! So much yum!
Wholesome Pantry Freeze Dried Fuji Apple Fruit Crisps were my daughter's favorite. She is obsessed with dried fruits and said that these were delicious. I only had the chance to taste one, she claimed them as her own and left! They were filled with flavor and portable. Of course being low-calorie treats are great to have around to snack on or a hit for being on the go!
Wholesome Pantry Organic Crushed Pepper and Truffle Oil Popcorn was delish. I'm not much of a pepper fan but hubby is and he thought they were on target! A perfect movie crunch for sure! They are finished with a hint of elegant truffle oil and a dash of spicy pepper for a purely rich treat! 
Wholesome Pantry Organic Pecan Halves were perfect! There is never a wrong time to eat pecans in my eyes. They are one of my fave goto snacks to have on hand. They are delicious alone or combined with a lunch salad or yogurt! I even put them into muffins. Yum!!  It's hard to resist pecans especially knowing they are packed with nutrients and a wonderful taste that no pecan fan can resist!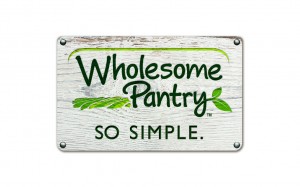 Disclosure: All opinions are honest and do not reflect the views of the parent company represented. Contact Diane at 3decades3kids@gmail.com and @3decades3kids across all social media networks.