DreamWorks Spirit Riding Free Season 4 Streaming Now On Netflix
Just put a horse and a little girl next to each other and you will see pure magic right in front of your very own eyes. Those are my own feelings anyway but they were proven over this past weekend. One of Emily's favorite Netflix shows is DreamWorks Spirit Riding Free! To be honest, I am a complete fan as well. We have spent hours binge watching Spirit and Lucky as they have taken on their journey.
Recently we were invited by DreamWorks and Netflix to get an up close experience with real horses and get the real feel of what it must be like to be Lucky ( the main girl in the series). Spirit Riding Free is a Netflix Original Series based on the book series. In a small Western town, spunky ex-city girl Lucky forms a tight bond with wild horse Spirit while having adventures with best pals Pru and Abigail. The show stars Amber Frank, Sydney Park, Bailey Gambertoglio. 
If you have a tween girl in your house you most likely have horses and unicorns all around. Around here Emily loves anything with horses and I can't blame her. From the moment she heard about Netflix releasing Spirit Riding Free she was waiting for it to stream. Season One was incredible, then followed by Seasons two, three and now Season four. The show is filled with adventure and anyone that loves horses will love this show. The adventure is endless and the situations will inspire you to chat with your children about different real life issues. I guess that is one of the reasons I like to watch Netflix shows with my child. There is also something to spin the show into when it comes to conversations afterwards.
So, when Emily heard we would be spending the day with horses she was ecstatic to say the least. She found her Lucky inspired top to wear and packed up her Spirit Riding Free dolls and we headed to New York City in search of Gallop NYC! It was the very first time I heard of Gallop NYC so I couldn't wait to see what the day would be like myself. I mean, horses in NYC? I could hardly believe it.
If you are wondering what Spirit Riding Free is all about, here it is in a nutshell. Lucky (the main character) used to live in the city and moved to the country and frontier. Soon after she meets a beautiful brown wild mustang named Spirit. Lucky feels an overwhelmingly instant connection to Spirit even though he appears to be untamable. That does not stop Lucky because she just adores Spirit. Along the way Lucky meets up with her new best friends Pru and Abigail. The three girls take on adventure like it's what they were born to do. Lucky is a natural born leader with a eye for adventure. With Pru and Abigail by her side there are plenty of adventures for them to go on. As Lucky navigates her new world she takes on adventure one day at time with Lucky, Pru and Abigail by her side. Together they figure out what true friendship, honesty and bring free is all about.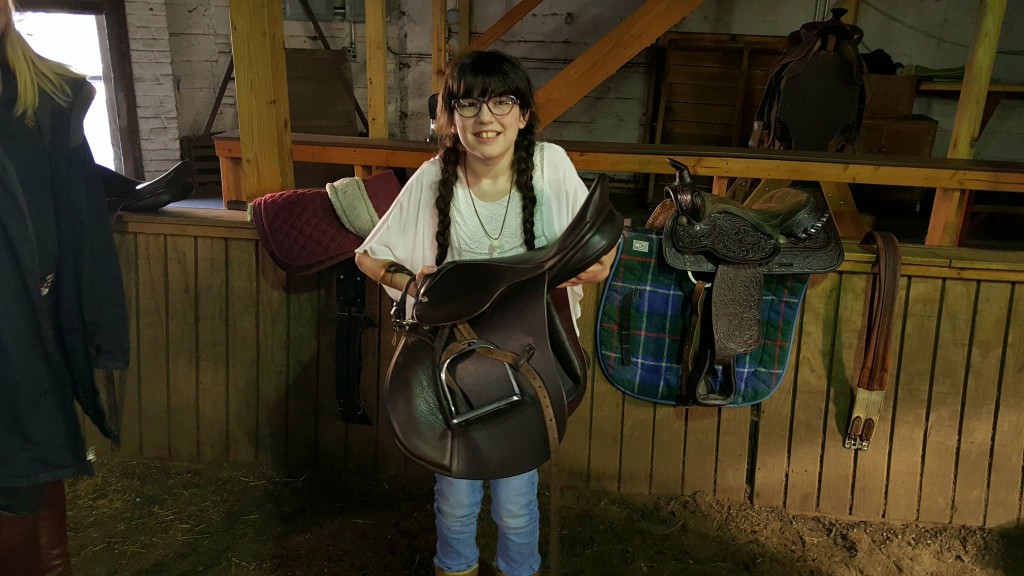 I can't even begin to tell you what a beautiful day we had at GallopNYC <–Click here. Unfortunately I DELETED my photos from that day and they did not back up to the cloud. I was about in tears, but luckily I did have the ones in this post already shared to social media and had already made my youtube video. Anyway, memories live on in our hearts and this day will live on for a very long time. As for GallopNYC, my daughter already wants to go back! She wants to see the horses again and groom them and ride them! I promised I would make plans for her this summer. But in the meantime, we will be watching DreamWorks Spirit Riding Free at home and playing along with the episodes! You can check out more about DreamWorks Spirit Riding Free here:http://www.dreamworkstv.com/shows/spirit-riding-
 Please check out our day celebrating Season Four of Dream Works Spirit Riding Free here: 

Disclosure: Family media invite provided by DreamWorks and Netflix and Gallop NYC. Contact Diane at 3decades3kids@gmail.com or @3decades3kids across all social media networks. All opinions are that of my own and honest. They do not reflect the views of any of partner brands represented.