Cape May Getaway For Hubby and Me   Until Next Time, Cape May…Until Next Time…
Hubby and I have been together forever but the fact remains that we have found it extremely challenging to just get away with the two of us. Yes, we do have older sons that could watch their little sister and that is what happened the past two years that we have slipped away to Cape May. But before that we had not gone away overnight in eight years. If you have kids, please DO NOT wait eight years to go away with your hubby. The kids will still be there when you get back! The house may be a little more wrecked, the socks may be on the floor and you may have a bill from the pizza and Chinese food orders but aside from that everything will be okay.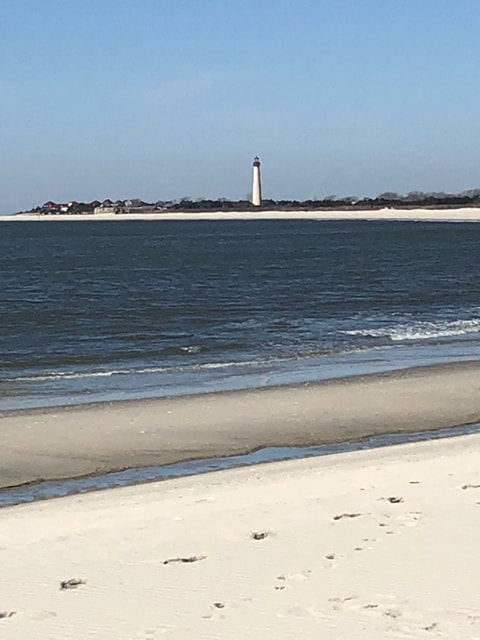 When hubby and I only had one child it was easy to pack up and leave him with the grandparents, when we had our second son it got a little more complicated. Two kids are harder to watch than one. And by the time Emily came along both grandmas were gone and my oldest son was packing up for college. That left us with few options. But last year we decided that the time had come and we were ready to get away. We went to Cape May for our anniversary in November. This year we wanted to repeat the trip and head to Cape May for our anniversary in November, it never happened, it got put on hold, but at the end of March the trip happened. Yes, we were four months late, but it happened. You know what they say- Better late than never, SO true! So don't get hung up on the date, just make it happen when it can, but make it happen, while you can. 
Hubby and I decided on a Friday morning that we would go to Cape May that night! As soon as our son walked through the door from work we were out. I must admit, the exit did come with guilt. I have only left Emily under five nights in her entire life. But I know she was in good hands. Grandpa came down to visit, I ordered pizza before I left and everyone was pretty much set. Hubby and I hit the parkway and we were on our way. Although Cape May is a little over three hours from our house it has a lot of history with us. It's where we officially kind of fell in love. It's where hubby would drive down to see me during the summers I spent there when I worked in Cape May during summers. It's where we spent forever walking on the beaches and tell each other all of our dreams of the future. And it's where we have taken all of our children one by one as they were born to be introduced to the beautiful ocean life. We have spent forever in Cape May and have created a million memories. Check out more about Cape May here: http://www.capemay.com/
We arrived in Cape May around 8 pm and checked in just to be sure the room was set since we only reserved it a couple of hours ahead of time. After dropping off our ONE carry on (a total perk of traveling with just you and your hubby) we headed to dinner at The Lobster House. I have lost count of how many time I have eaten there and how many laughs I have shared with family and friends throughout the years. It's like coming home and even though my mom and old friends have gone to heaven, their memories come alive when I walk through those doors. Dinner was delicious as usual! I had to have the lobster bisque, had to! It's my most favorite thing about the Lobster House, along with the bread they serve there! We were too stuffed for dessert- Ugg! I guess it was a good thing but I do love their desserts, too.
We took a ride around Cape May at night just to see everything. Most places were closed since our dinner took us late into the night. And the morning came TOO soon! I don't know about you, but to me one of the best wake ups ever is to the ocean waves. We had a room that was ocean front so we could see that beautiful beach right away- It was another gorgeous morning in Cape May! I made this video BEFORE I DELETED all of my photos from the trip by mistake!! The ones pictured and this video are all I have….

After checking out we headed to the end of Ocean Drive. If you have ever been to Cape May you already know there is only so far you can do on Ocean Drive and at the end is the most wonderful view of the Cape May lighthouse. It was pretty windy and freezing but we could not resist a walk on the beach. We did keep it brief since it was COLD!! We walked the Washington Street Mall instead. The Washington Street Mall is not really a mall, it's a cobblestone walkway lined with unique shoppes that you can find just about everything you ever wanted inside of. Since our last trip to Cape May I have become a fan of Pandora jewelry, so hubby surprised me with the Cape May lighthouse charm, love it! Thanks hubby!
We took in lunch at the Blue Pig Tavern inside of Congress Hall. We have dined at the Blue Pig Tavern since it first opened. It's kind of small with a fireplace inside, but it's worth the wait. PS- There was no wait the afternoon we visited. But if you visit in the summer, it's worth the wait. There blueberry pancakes are incredible and the ruben sandwich is top notch! Yum!
The one thing that is bad about Cape May is that the time goes by TOO fast! It was like we arrived, dined, slept, woke up, beach, mall, dined and it was almost time to head home. Oh, we did stop for a banana split on the way out of town- a banana split! I'm not sure I even remember the last time I had one! 
So our trip was a total success! Hubby and I had a wonderful time and plenty of time to just chill and talk about everything. It was amazing, it was our Cape May! Add this trip to the memories…. Until next time, Cape May…Until next time….xoxo
PS: I deleted ALL of my MARCH photos from my phone and they did not save in my cloud. SO, I have a handful of pics and memories. Check out our Cape May Zoo post– It's a great place to visit. 
Disclosure: This was a personal post. All opinions are my own. Contact me at 3decades3kids@gmail.com or @3decades3kids across all social networks.