HD Digital
Giveaway! Disney Pixar Now On

Blu-ray™ DVD Digital
Disney*Pixar's "Cars 3" Cruises Home NOW on 
Digitally in HD and 4K Ultra HD™ and Movies Anywhere 
and Blu-ray 4K Ultra HD™ & Blu-ray™ 
Our family has been loyal Cars fans from day one! Who can resist the pure awesomeness of the having Disney Pixar Cars come to life! Over the years we have enjoyed trailing them in every way and could not wait to see Cars 3 when it hit the big screen. Today is a big one for us. Today we can add Cars 3 to our already abundant Disney Pixar library! I know what this family will be watching very soon. How abour yours?
GIVEAWAY: We have a super giveaway for FIVE Disney Pixar Cars 3 HD Digital Codes! Now you can take Cars 3 anywhere you would like and watch it anytime, anywhere! So here we go! If you want in, enter on the Rafflecopter. On your cell? Turn it sideways so you can see us! USA/18+ only. As always thanks for being a 3decades3kids reader. Giveaway ends at 11:59pm November 13th. Winners will be notified via email used to comment on post. Winners will have 24 hours to claim prize before a new winner is chosen. 
"Cars 3" surged to the front of the pack opening weekend with audiences racing to see the legendary Lightning McQueen (voice of Owen Wilson) and spirited trainer Cruz Ramirez (voice of Cristela Alonzo) team up to beat the new generation of blazing-fast racers. Now, this summer's high-octane hit cruises home-loaded with bonus features like the all new mini-movie starring the demolition derby legend Miss Fritter- Digitally in HD and 4K Ultra HD™ and Movies Anywhere on Oct. 24, and on Blu-ray 4K Ultra HD™ and Blu-ray™ on Nov. 7.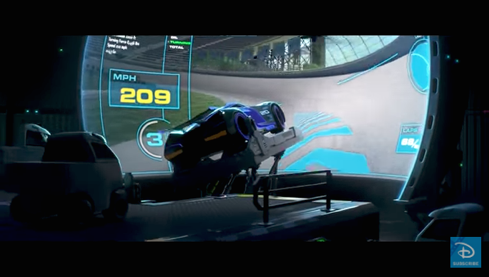 Race fans of all ages are invited to ride along with the "Cars 3" crew for hilarious and heartfelt extras, including an exclusive new mini-movie, "Miss Fritter's Racing Skoool," taught by the queen of the Crazy 8; a feature detailing how real-world race training influenced filmmakers; the journey taken by voice actor Cristela Alonzo and team while shaping tech-savvy trainer Cruz Ramirez; behind-the-scenes access to the story team who crafted Lightning McQueen's third chapter; deleted scenes; and much more.
Be sure to add CARS 3 to your Movies Anywhere Digital Library today! Order a copy for your friends and family this holiday season! Click here:  http://movies.disney.com/cars-3
Special Features
Exclusive New Mini-Movie: Miss Fritter's Racing Skoool

Theatrical Short: Lou

Deleted Scenes

Cruz Ramirez: The Yellow Car that Could

Let's. Get. Crazy.

Ready for the Race

Cars to Die(Cast) For

Generations: The Story of Cars 3

My First Car

Legendary

World's Fastest Billboard

Commentary

Cars D'oeuvres

Cars 3 Trailers

Cars 3 Car Reveals

Cars 3 Set Fly-Throughs
Disclosure: Diane Sullivan/3decades3kids is a Disney Pixar partner blog. All opinions are that of Diane, honest, and do not reflect the views of the parent company represented. Contact me at 3decades3kids@gmail.com or Diane@3decades3kids.net and of course across all social media platforms as @3decades3kids. Complimentary copy provided.