Our Family Christmas! Merry Christmas To You!
By the time you get this Christmas will be a thing of the past. Since it's New Year's Eve, Christmas will most likely be last year by the time you are reading this. I did not want the holiday season to pass by without wishing you all a Merry Christmas! It's been a long month of celebrating around here. Actually for Emily and Mommy Christmas started back in November with our first Mommy and Me trip to Disney and Gaylord Palms! It was a great start of the holiday season. I also learned a BIG lesson!!! On our trip Emily went to see Santa at Gaylord Palms. Because it was only November and before Thanksgiving I did not purchase the Santa and Me pic of her and Santa. I thought there would be a million photo opps between Six Flags and Great Wolf Lodge and Hershey! Little did I know that she would come down with pneumonia and all of our December plans would be cancelled. Lesson: When you have the chance to buy something, do it! You may not get another chance. So sadly, this is the first year we have no Santa pic but at least she was able to see him and tell him her Christmas wishes. I hope most of them came true!
It has been fifteen years since the last time I visited Disney at Christmas, long before Emily was born. It was just as magical as when I was there the last time and so precious to see the excitement through her eyes. The castle at Magic Kingdom that Elsa ices over is just beyond magical! Epcot was done up and we did sample a few of the holiday foods including the Three Kings Bread and lunch at Italy! Hollywood Studios was filled with snow showers and the Jingle Jam as well as the Tower of Terror Show! We even dined with all the characters in their holiday outfits including Santa Goofy! Emily and Mommy had matching Santa Goofy sweaters that we picked up at Epcot! What a getaway! 
Thank goodness that Emily recovered in time to return to school and be part of the Christmas Band and Concert! Adam finished his first semester at college and pop- It was Christmas! We had our traditional Christmas Eve dinner and broke Opyatak with each other as we wished each other luck and love for the upcoming year. Santa left a ton of gifts! Top choices were My Little Pony and Olaf's Frozen Adventure for Emily, Anything Stranger Things for Adam and Batman comics and legos for Louie! As for me I got my very first Pandora bracelet! I was SO happy! I have seen the bracelets a million times but never really cared. But on the plane on the flight home from Disney the stewardess was wearing a gorgeous Disney Pandora bracelet and charms. Right then I was thinking- Wow, I never realized how nice Pandora was before this! 
Christmas morning arrived in the blink of an eye and we all celebrated. I was especially happy this Christmas NOT to have a broken foot. I vowed to not sweat the little stuff after being laid up the year before. There was cookie baking and Christmas foods galore cooking! There was even a cheesecake which Emily helped me to bake and for the first time, it did not crack down the middle! Christmas was good and there was no drama. It was just our family and my dad and we all enjoyed the day together laughing, telling stories, eating and playing games! It was one of our better Christmases, but it did go by way too fast!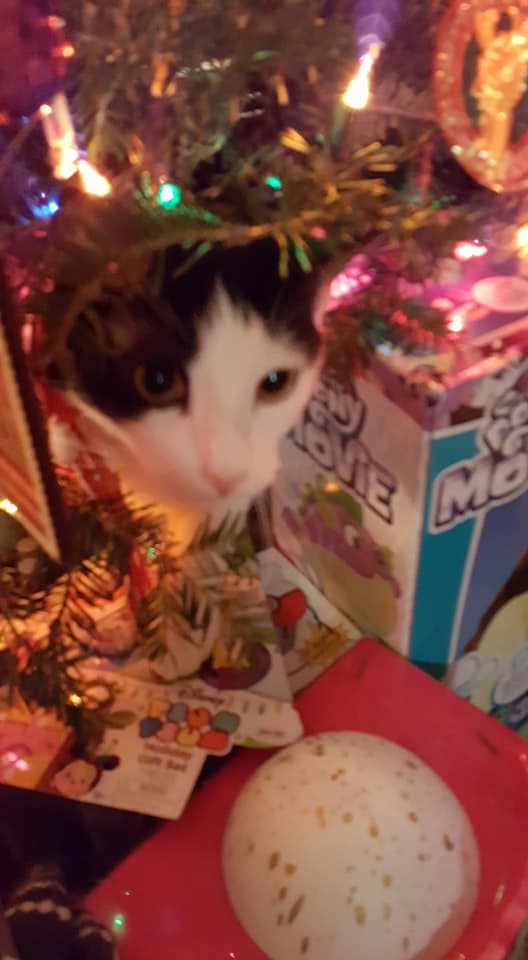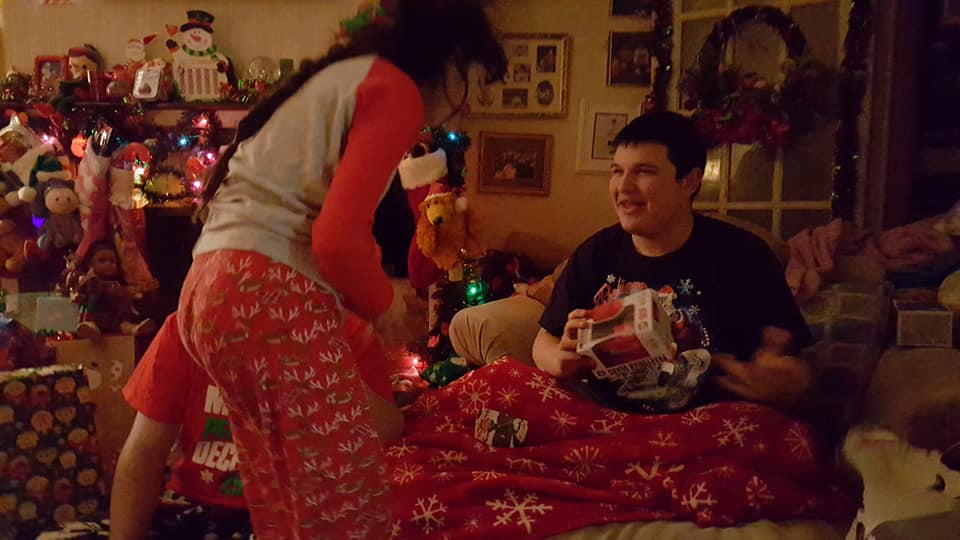 As an added bonus we were able to keep our kitty Sugar out of the Christmas tree! Of course we did have a water bottle close at hand just in case but for the most part he was happy to hang out under the tree and push the lowest tier ornaments back and forth with his nose! We did get him the cutest little red and black checkered cat/dog bed at PetSmart for our living room. It was picture perfect but he only slept in it a few times! He was happier to be under the tree!
So, I hope that you and your family and friends had a wonderful Christmas! I am glad that I opened myself up for happiness this year. Since it was my mom's tenth Christmas in heaven maybe it was time for me to finally just let myself enjoy the holidays. As for next year, who knows!? How was your Christmas? Did you have a favorite gift or was just being in the moment your gift to yourself? Merry Christmas!
Disclosure: Diane Sullivan is the author of 3decades3kids.net. Please contact me for collabs at 3decades3kids@gmail.com or @3decades3kids across all social media platforms. This is a personal post about our December Christmas holiday.