Welcome To The Family, Parker!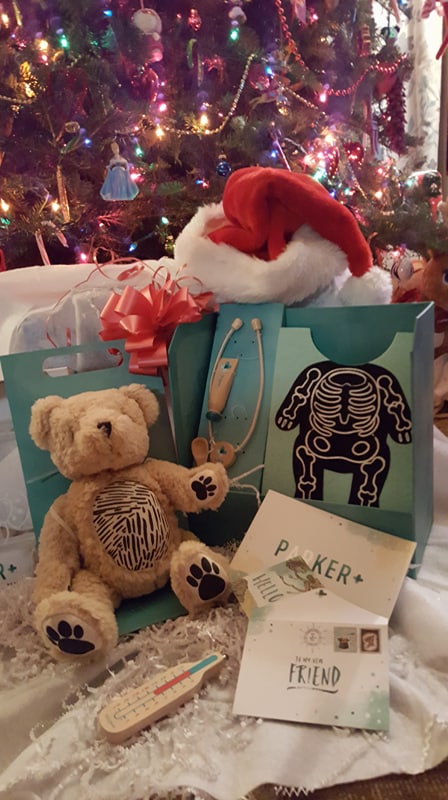 Recently I was introduced to the most adorable little bear ever. His name is Parker and he was launched by  Seedling. Parker is the world's first augmented reality teddy bear. He is pretty much irresistible to both children and adults. As soon as I saw him I knew he had to become a part of our little family! From his super cuddly fur to his adorable softness, he is just amazing. The best part is he has augmented reality. When he arrives you can download the app and wah-la, welcome to the world of Parker. You can help him to feel better, take his temperature, and even help him to be happy.
Parker will definitely be a friend for life. Once you download the app Parker will give you different problems to solve each time you open the app. This makes the app experience more unique. The real-world tools in your Parker kit activate new visuals and effects in the app. It's like magic that happens before your eyes. Each time you cure one of Parker's ailments, solve a problem, or complete a game you can watch Parker's Happiness Factor™ go up! You can use the magic camera to see how Parker's happiness transforms the world around you with augmented reality effects. You can also create your own artwork and decorate your own bandages to personalize  your playtime with Parker. I'm beyond impressed with little Mr. Parker, our newest member of the family! By the way, there are most amazing pint sized letters with matching envelopes that are sure to delight you. They are sweet notes from Parker himself.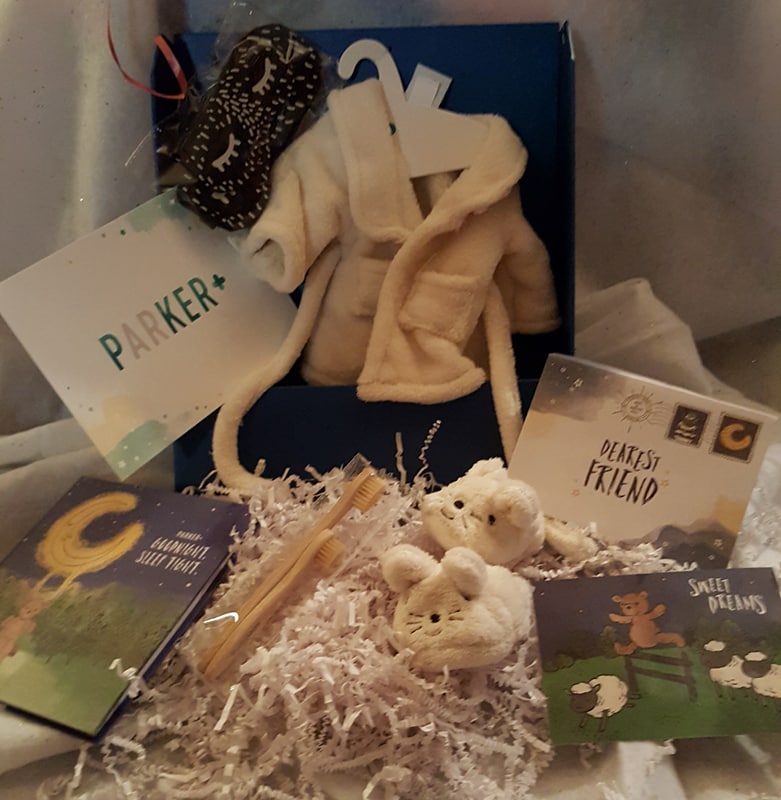 In addition to Parker,  Seedling has introduced  Parker's Bedtime Kit. When you buy Parker, the bedtime kit is a must do add on. When you see it you will know why. The bedtime kit helps children tuck Parker in for the night. The bedtime kit further encourages caretaking and empathy, and also encourages bedtime routines and a good night's sleep for all! I absolutely love how Parker's Bedtime Kit comes with two wooden toothbrushes and the most adorable little teeny robe and slippers for Parker. In addition to the matching toothbrushes for your child and Parker there are also matching sleep masks! So precious! The Good Night Sleep Tight story book is perfect for Parker and his new friend to read together before bedtime. But let me warn you, you will want to share hugs with Parker as much as your child does. The Bedtime Kit, available at Seedling.com for $39.99, also unlocks new, exclusive features in the Parker App with new games to play and ways to create.
Check out everything about Parker and see what Seedling is all about right here. You'll be glad you clicked! :  https://www.seedling.com/
Disclosure: Diane Sullivan/3decades3kids is a Seedling partner blog. All opinions are that of Diane and do not reflect the views of the parent company represented. Sample products provided in order to facilitate this review. Contact me at 3decades3kids@gmail.com or @3decades3kids for collabs. This post is part of our #3decadesGiftGuide #HolidayGiftGuide