DreamWorks Animation Television Has NEW Shows Coming to Netflix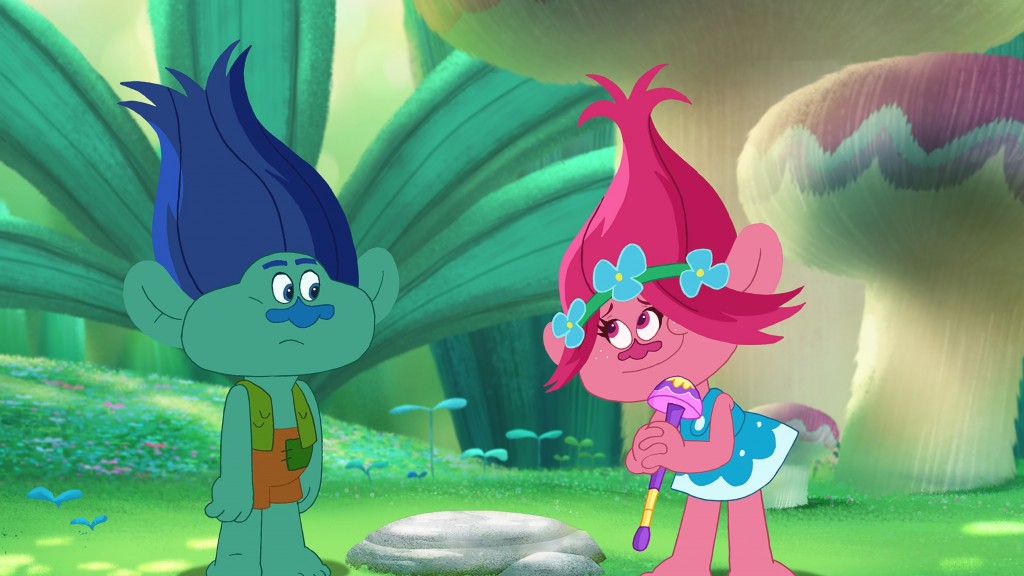 I am so just excited about what DreamWorks Animation Television  has coming to Netflix! They are  announcing six new original series debuting in 2018! So, here we go!! 
Trolls: The Beat Goes On!  on January 19, 2018

She-Ra

The Boss Baby: Back in Business

Harvey Street Kids

The Epic Tales of Captain Underpants

Trollhunters Part 3

3 Below (The second installment of the Tales of Arcadia trilogy from Guillermo del Toro)

My family could not be any happier about the new line up! Trolls is a definite family favorite. How can you resist those adorable little super cute creatures! I know I can't. They make me want to put on a troll wig and toss flowers around! Trolls: The Beat Goes On!  I just have to share the brand new trailer for Trolls: The Beat Goes On! You are going to love it, I promise! 2018 will begin with Trolls: The Beat Goes On! premiering Jan. 19, 2018, exclusively on Netflix! Mark your calendars- The New Year is going to start off with Trolls- What could be better? Who's your favorite Troll? 
Picking up where the film left off, the Netflix original series is an all-new chapter in the the endlessly upbeat adventures of the Trolls as Poppy, Branch and all of Troll Village keep the party going in their fantastical forest home. Executive produced by Matthew Beans (Robot Chicken), the series features Skylar Astin (Pitch Perfect 1 and 2) and Amanda Leighton (This Is Us, The Fosters) as the voices of Branch and Poppy with original songs written and produced by Alana Da Fonseca (Pitch Perfect 3). The series will premiere exclusively on Netflix in the U.S., Canada, Latin America, UK, Australia, New Zealand, Ireland, the Nordics, Benelux and France. Watch the Trolls: The Beat Goes On! trailer here and visit netflix.com/trollsthebeatgoeson for more information. The music from season 1 of Trolls: The Beat Goes On! is available for pre-order on iTunes, Amazon and Google Play.
Get ready to hop back to the 80's friends! Another show coming up will be DreamWorks' beloved animated films as well as classic properties including an all-new She-Ra.  From executive producer Noelle Stevenson, the new She-Ra series will present a modern take on the '80s girl power icon for a new generation of young fans. Wow, I cannot wait to introduce my daughter to She-Ra! We are all about Girl Power around here! She-Ra premiere date will be announced- stay tuned. I will let you know the minute I have the info!
From Eisner Award-winning author and executive producer Noelle Stevenson (Lumberjanes, Nimona) comes a modern take on the '80s girl power icon for a new generation of young fans. The trailblazing property originally debuted in 1985 to satisfy overwhelming demand for a female lead fantasy series. With Stevenson's unique voice at the helm, fans are in store for an epic and timely tale that celebrates female friendship and empowerment, lead by a warrior princess tailor made for today. The series will be available to Netflix members worldwide in 2018.
This one I am a total super fan of-The Boss Baby: Back in Business! I fell in love with The Boss Baby the second I saw him! I want to have him come and live with us! Boss Baby, with the help of his big brother and partner-in-crime Tim, continues to navigate the cutthroat corporate jungle gym of Baby Corp, while angling to achieve the near-impossible: the work-life balance of a modern career baby. From Emmy-winning executive producer Brandon Sawyer (Penguins of Madagascar), the series will be available to Netflix members worldwide in 2018. Visit netflix.com//bossbabybackinbusiness for more information.
Harvey Street Kids will be streaming the minute it hits Netflix! From its never-ending games of kickball to the infinite flavors of its ice cream truck to the greatest climbing tree in the universe, every day on Harvey Street feels like a Saturday. And that's largely thanks to the Harvey Girls – Audrey, Lotta, and Dot – the block's self-appointed guardians and the world's bestest BFFs. They will do whatever it takes to keep Harvey Street the best block to never grow up on and transform every afternoon into a wild adventure. From executive producer Brendan Hay (Dawn of the Croods, The Daily Show with Jon Stewart) and Emmy-nominated supervising producer Aliki Theofilopoulos (Phineas & Ferb, Descendants: Wicked World), the series will be available to Netflix members worldwide in 2018. Visit netflix.com/harveystreetkids for more information.
Yahoo!! This is going to be good! Who love Captain Underpants? The Epic Tales of Captain Underpants. Based on the epic books by Dav Pilkey, DreamWorks The Epic Tales of Captain Underpants follows the adventures of George Beard and Harold Hutchins, two best friends who've bonded through their love of pranking, comic books and being the thorns in Principal Krupp's side. Their fun gets them mixed up in adventures crazier than their outrageous comic books, which is when they call on their greatest creation: Captain Underpants! From Peabody Award and Emmy-winning executive producer Peter Hastings (Animaniacs, Kung Fu Panda: Legends of Awesomeness), the series will be available to Netflix members worldwide in 2018. Visit netflix.com/epictalesofcaptainunderpants for more information.
Trollhunters (Part 3) and 3 Below (Second installment of Tales of Arcadia Trilogy). DreamWorks Trollhunters Part 2, from Guillermo del Toro, premieres on Netflix, on Friday, Dec. 15, with a third and final chapter of the Emmy-winning series set to debut in 2018. 3 Below, the second series in the previously announced Tales of Arcadia trilogy, will premiere in late 2018 and feature two royal teenage aliens and their bodyguard who flee a surprise takeover of their home planet by an evil dictator and crash land in Arcadia. Now on the run from intergalactic bounty hunters, they struggle to blend in and adapt to the bizarre world of high school all the while attempting to repair their ship so they can return and defend their home planet. A final chapter, Wizards, is set to debut in 2019.
Premiering in 2016 to critical acclaim, Trollhunters introduced audiences to the seemingly quiet town of Arcadia and an ordinary kid who embarks on an extraordinary adventure in a hidden world right beneath his feet featuring the voices of Anton Yelchin, Kelsey Grammer, Ron Perlman, Steven Yeun, Anjelica Huston and more. Recently nominated for six 2018 Annie Awards, the first season lead the Creative Arts Daytime Emmys with six wins, more than any other program, including writing for an animated program (Marc Guggenheim), directing (Rodrigo Blaas, Guillermo del Toro), casting (Ania O'Hare, Mary Hildalgo) and a voice acting win for Grammer. DreamWorks Trollhunters is created and executive produced by Guillermo del Toro with Marc Guggenheim (Arrow, Legends of Tomorrow), Rodrigo Blaas (Alma) and Chad Hammes (Dragons: Race to the Edge) and Christina Steinberg (Rise of the Guardians) serving as executive producers.  Dan Hageman (The Lego Movie, Ninjago) and Kevin Hageman (The Lego Movie, Ninjago) serve as co-executive producers.
Since 2013, DreamWorks Animation Television and Netflix have released 12 original series including DreamWorks Trollhunters, Dragons: Race to the Edge, DreamWorks Voltron Legendary Defender, All Hail King Julien, DreamWorks Spirit Riding Free, Dinotrux and more, winning 17 Daytime Creative Arts Emmys and six Annie Awards.
Disclosure: Diane Sullivan/3decades3kids is Netflix Stream Team member. We love Netflix and want to share everything with you! Contact us at 3decades3kids@gmail.com and @3decades3kids across all social media platforms.