ICE! Featuring Christmas Around the World at Gaylord Palms!
ICE! You can't say the word without conjuring  up some thoughts of that frozen little wonder. It may bring back memories of icicles adorning your childhood home, or skating on cold winter days. Everyone has their own personal thoughts when it comes to ice. For me it definitely makes me think of the cold winter days ahead. But there is yet another kind of ICE! waiting for us all. It's the one that includes two million pounds of hand carved ice sculptures and a world of ice that you could not even begin to imagine in your wildest dreams. 
There is something magical about the holidays and something that just mesmerizes me about ICE! Ever since I first heard about ICE! at Gaylord Palms I knew that I had to see it someday. Recently our family was invited to spend the night wearing the infamous blue jacket and taking on the nine degree temperature of ICE! It was a night I will not soon forget and memories made that will not soon fade.
Every year Gaylord Palms announces a new theme for their ICE!, this year's theme is ICE! Featuring Christmas Around the World! I could not have thought of a better time to visit than this year. Our family is fascinated with meeting people from all over the world and learning more about other people's ways and traditions. There is no better time for the world to come together and ICE! definitely has a way of showing just how wonderful Christmas is all over the world. Find our more about ICE! here: https://www.marriott.com/gaylord
So, let's get down to it! I was a little worried that ICE! would be a let down. I thought maybe I had built it up so much in my mind that it could never live up. I was SO wrong. It was just as good as I thought, it was even better. BUT it is COLD in there….really COLD!! I know they said it would be nine degrees, but I was thinking- I'm from the northeast, we have cold winters-no big deal. Wrong! It is really cold in there! If you are going, they do supply am amazing blue parka that will keep you snuggly warm. In addition I would highly suggest bringing your own gloves, hat and scarf. You really don't need the hat and scarf as much, but you definitely need the gloves. If you do forget them, they are available at the doors to ICE! The prices are pretty reasonable so definitely go for it if you are planning to spend some time inside.
ICE! Featuring Christmas Around the World is part of an amazing celebration that takes place annually at Gaylord Palms, Christmas at Gaylord Palms! Our first experience with ICE! began with a bit of preshow where we were challenged with some Around the World trivia on the big screen. If you are waiting in line to get it, this certainly will be an entertaining way to pass the time. Our next stop was to be outfitted with our blue parkas! Emily and I each received ones tailored to our size. We felt like a couple of blue penguins waddling into the green screen picture opp zone. Of course we left with the picture! We wanted to remember every single minute! 
I don't think I will ever forget the moment the door opened to the actual exhibit, ICE! For lack of better words, that moment will be frozen in time! As we walked through the doors the chill just hit us in the face. It was COLD! We both laughed and looked around. It was absolutely amazing! Ice everywhere we looked, it surrounded us on every side. Even the walls were made of ice. Our icy dreams were about to come true. 
Emily was on the lookout for the ice slides from the moment we set foot into the doors but I wanted to just savor the moments in each room. She agreed that we should take our time and really stay in the moment. We did! The first room delighted us with a bigger than life ice carving of the world sided by ice flags from many countries. It was only the beginning and there was so much more to come. We had no idea what lied ahead. Our next steps took us past children from various countries dressed in native clothing. Each one with the country displayed beneath it in lights. There were plenty of photo opps to stand next to the ice children. It was fun to try to figure out which county each one was representing. It was incredible how intricate each face was carved along with being painted. Who even knew you could paint ice!!??
As we continued on we found a room filled with different countries being represented by their unique traditions. I absolutely loved this room!! I could not just walk through it. Emily and Mommy went from ice scene to ice scene discovering what country was being represented and admiring all of the details put into each sculpture. Some even had an ice sculpted grand chair to sit on next to the country! How amazing! We both tried out the ice thrones, we had to! My daughter's favorite part of that room was the enormous decorated Christmas tree with Santa and Rudolph side by side. There was even a crawl through as part of that display! For a moment I stood in disbelief about how all of these sculptures before me were carved from ice! What an incredible sight!
The next room was the one Emily had been waiting for, the Ice Slides! Before us stood five lanes of ice slides! Music and lights going on as the kids and adults headed up the steps. Down they all slid! As for Emily- for some reason she could not slide until about the halfway mark. Myself along with the workers and Emily were getting a few laughs in. It was too funny! It's a good thing she was able to go time after time after time. Of course she tried every lane of the slide! So much fun! I know this was at the top of her list and it was something she really recommended to everyone that she talked to about Ice! 
As we continued on room through room we were more and more impressed by the talent of the ice artists that put this entire experience together. We found crawl through tunnels, places to put our faces through for photos, a big teddy bear ice chair, a larger than life sleigh that we could actually sit inside of, a place where ice carving would be demonstrated and explained and more. But I think our biggest surprise and the most beautiful sight was the very last room. There we found the entire nativity ice carved. It was breathtaking to say the least. There before us in crystal clear ice was the beautiful nativity in life sized figures. Not just St. Mary and St. Joseph and baby Jesus, but also the shepherd all the animals and the Three Wise Men!  It really grounded me and made me feel so grateful for everything I have and for the being right there with my daughter in that moment. For me it was the beginning of the Christmas season. Emily and I bowed our heads in honor of the birth of Jesus and said a little prayer of thanks. It was a beautiful moment and I never want to forget it.  It was more than a media event at that moment, it was a precious moment. It was somewhere I would love to come back to with my hubby and sons. It was a place I wanted to bring everyone I every was friends with or related to and show them just how beautiful it was.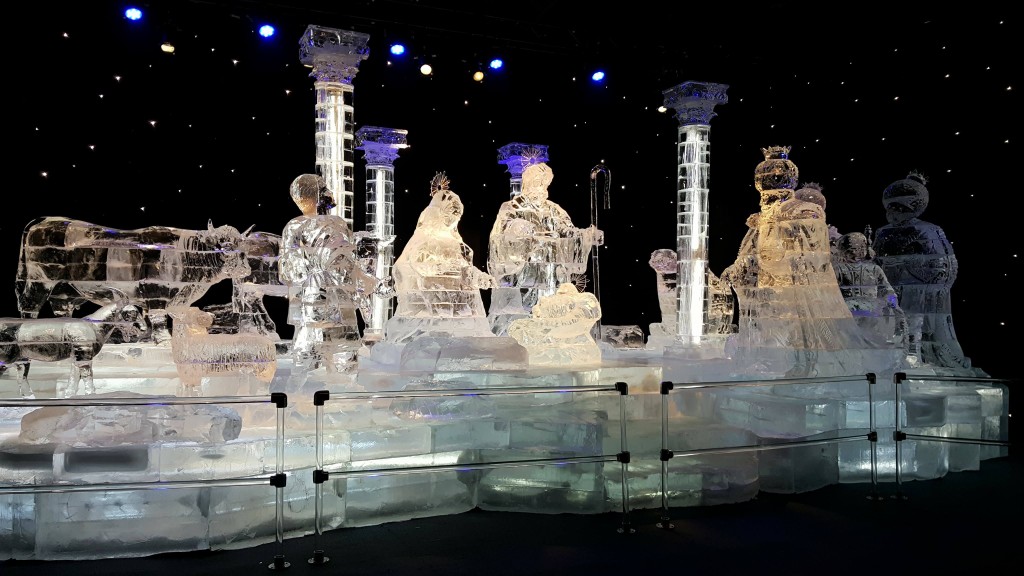 So, gather up your friends and family and get over to Gaylord Palms for ICE! Featuring Christmas Around the World. You will love it! I will be writing another post that goes with this one that will tell all about Christmas at Gaylord Palms! ICE! is only one part of the fun you can have. In addition to ICE! you can enjoy eight lanes of snow tubing, a wonderful show- Cirque Dreams Unwrapped, Gingerbread House decorating, A Mrs. Claus Show, Holiday dining, Snowball throwing (not at each other..), a beautiful light and sound tree show- Joyful, Build-A-Bear Scavenger Hunt, Breakfast with Charlie Brown and more! I can't wait to tell you even more about Christmas At Gaylord Palms. We cannot wait to visit again. Check out all of the activities at Christmas at Gaylord Palms here and also check out room packages: https://www.marriott.com/gaylord