Goodbye Christopher Robin- Based on the true story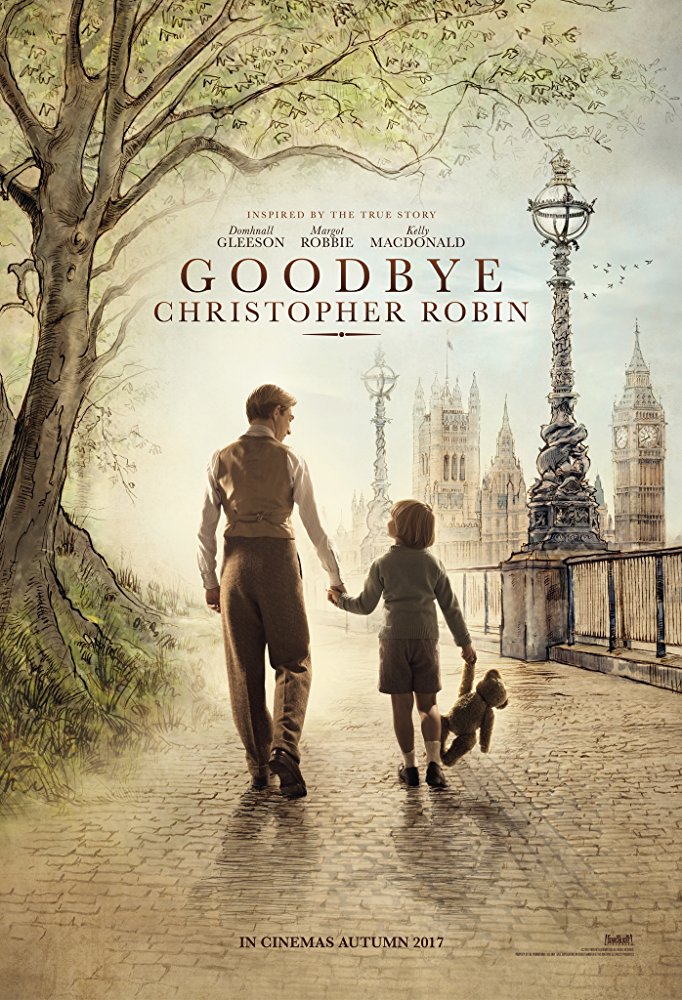 Winnie the Pooh has been a household name around here forever. Being a mom of three kids each one eight years apart from the other has had me parenting forever.  Along with that it's just a natural that I absolutely love Winnie the Pooh. It was always my goto bedtime song for all three of my children as well as telling the tales and reading whichever Pooh bear book was close at hand. It's hard for me to understand how someone could not love that adorable little bear and him companion, Christopher Robin. When I first heard about the movie, Goodbye Christopher Robin I could only speculate what the movie would be about. I was hoping it would not be a movie that would have me surrounded by tissues that entire time especially since it is based on a true story.
Goodbye Christopher Robin is an amazing chance for us all to get a peek into the life of  A. A. Milne who penned the Winnie the Pooh stories. Played by (Domhnall Gleeson), we get to see how father and son Christopher Robin (Will TIlston) get on. If you are not familiar with the movie, it is a story based on the real life of Christopher Robin and his world of toys. Christopher Robin brought his world to life as he played with his best friends Winnie the Pooh and Eeyore, creating a magical world of adventure. Along with his mother Daphne (Margot Robbie), and his nanny Olive (Kelly Macdonald), Christopher Robin and his family are swept up in the international success of the books. We all know that success does come with paying a price. Set in England following the First World War, A. A. Milne's stories bring hope and joy to all of those who read them. But with the eyes of the world on Christopher Robin, what will the cost be to the family? Sometimes what we view as perfect or a perfect family has many tears that we cannot see. During the movie you will find out Christopher Robin's true feelings about his family and about his best bear, Pooh. 
Recently I had the chance to attend the NYC advance screening of Goodbye Christopher Robin and chat with the director, Simon Curtis. Following are what I thought was most important that he touched upon during the talk. 
"So many films in this day and age are about nothing and his film could be about so much. So many things that are important to us, particularly family."
"It was perfectly natural for a child to be handed off to a nanny on day one, and then shipped off to boarding  school as soon as possible."
In regard to the scenes of childhood depicted. 
"It's our intention to tell the true story. It's a sad story in some ways, but it's a story of England."
"I loved the sequence when the father and son play together in the summer. You can see him fall in love with the idea of being a father. That to me is the heart of the film."
On Margot Robbie and Domnhall Gleeson- "They are two of the brightest actors I've ever worked with, this is proper acting."
"The most important message throughout the movie, to me, is cherish your family."
Check out everything about the movie here: http://www.foxsearchlight.com/goodbyechristopherrobin/
Disclosure: This post was written in partnership with the Role Mommy Writer's Network. All opinions are 100% my own.