Hershey Park In The Dark- Celebrate Halloween at Hershey
Park- HersheyPA
Disclosure: All opinions are that of Diane Sullivan. Trip hosted by Hershey Park and Hershey Lodge. Contact me at 3decades3kids@gmail.com 
Our family loves to travel and we love Halloween, so visiting Hershey Park this past weekend was a natural choice. Every year Hershey Park celebrates Halloween with "non-scare" fun for all ages. Hershey Park in the Dark is open weekends through the end of October. Last weekend our family packed up and headed to Hershey Lodge for a few days of fun. If you already like Hershey Park, you definitely should check out Hershey Park in the Dark. If you are looking for some scares, this is not for you.
We were pleased to find out that thirteen coasters, The Thrilling Thirteen, were open and ready to go! Since my older sons are so obsessed with coasters this was a biggie for us! They were beyond thrilled to find out that Laff TrakkSM, WildcatSM, CometSM, and Lightning RacersSM  would ALL be in the dark, LIGHTS-OUT!! The only one I rode was Laff Trakk and it was SO much fun in the dark!! But, it was really dark- that was such a cool experience! If you go to Hershey Park you definitely want to check it out!
In all there were about fifty rides and attractions open! We totally lucked out with the weather, too! So we stayed from opening until closing of the park the day we visited. If you do by tickets please remember that your tickets are good for a preview night for a few hours the night before! That will give you time to get a bit of a park preview and even catch a ride or two!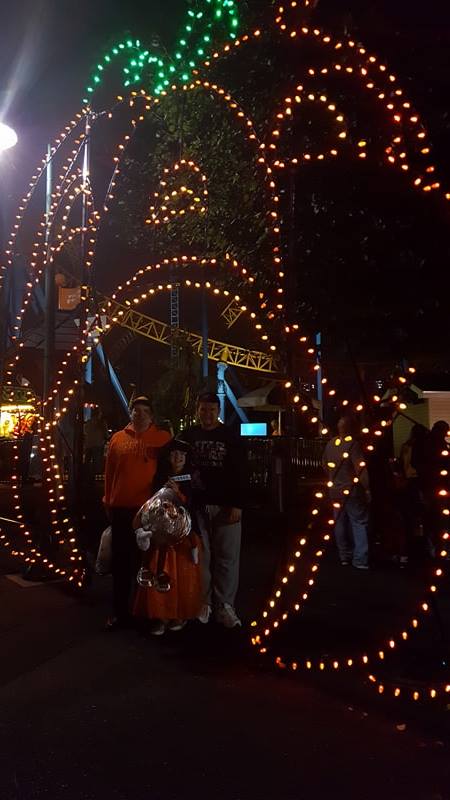 As for my daughter, she was just in heaven when she hit the new Trick-Or-Treat trail. The new Treatvilled has thirteen candy locations including Hershey Park, Zoo America and Hershey Hollow- Chocolate World. She was glad to still have a few years left before the cut off of twelve years old. You can pick up a treat bag at Hershey's Chocolate World, Hershey Park or Zoo America.  She was a good sport and did share the goods with her two brothers! Of course, in addition, we did have quite a candy haul to keep everyone happy.
Throughout the park we were so excited to find Halloween and Fall themed foods! There were pumpkin funnel cakes, S'mores, lots of  s'mores choices, and a King-Sized pumpkin milkshake! The pumpkin milkshake comes complete with a piece of pumpkin roll cake right on top of it. Leave extra time if you want any of these treats. The lines were long to get them.
You might even find a band of misfit mummies performing as you walk around. On of our favorite activities was the Characters Dance Glow Party! This was so much fun for everyone that attended. The night we were there it started at 7:30. As we arrived the area was packed with people dancing with the Hershey's characters. They were as nice as could be and could not wait to dance with the kids and take pictures! Did I mention that the characters were decked out with glow tubes and costumes. So much fun!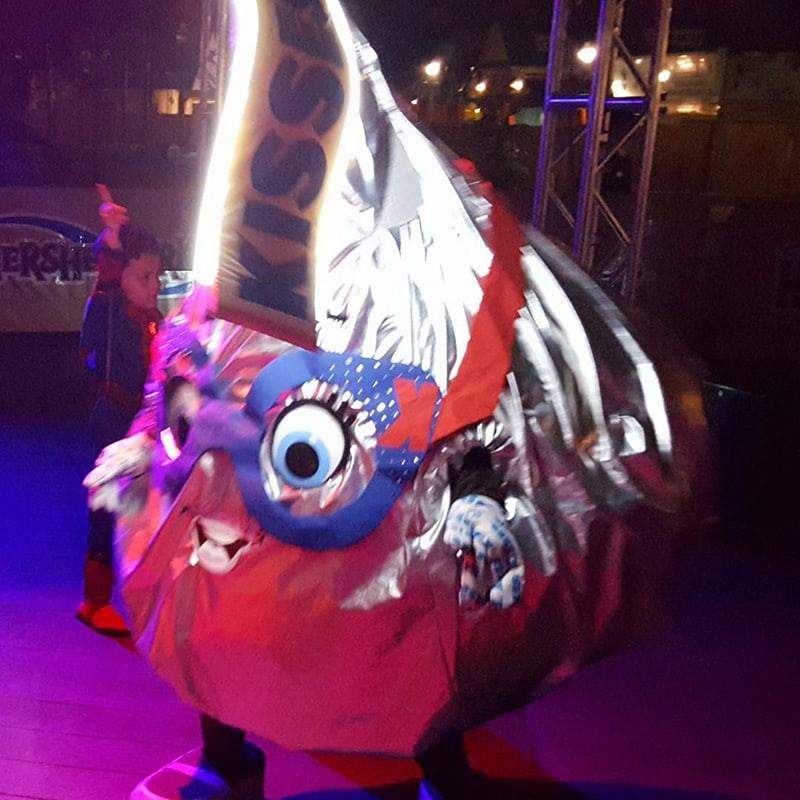 ZooAmerica was also included with your ticket into Hershey Park! Please don't forget to bring your own flashlight so you can tour Creatures Of The Night when you go. We could see the glow of flashlights from different areas of the park the night we were there. 
Find out everything you need to know about Hershey Park in the Dark by clicking here!
Disclosure: All opinions are that of Diane Sullivan. Trip hosted by Hershey Park and Hershey Lodge. Contact me at 3decades3kids@gmail.com