Journey Girl Collection Travels To Italy and We Went Along at Toys R Us!
Recently my daughter and I were invited to Toys"R"Us  Times Square, NYC to celebrate and learn all about Journey Girls (Toys R Us Private Label). Emily loves dolls and so does her mommy (me)! After being a boymom for sixteen years before Emily was born there were really no dolls in our house. We are definitely making up for lost time before the magic of doll play disappears. Before the event we had only heard a little bit about Journey Girls, so we could not wait to get acquainted  with our newest friends. We were both beyond thrilled to hear that Journey Girls would be going on an Italian adventure- being Italian this made the event even more fun. 
Beginning this September, customers will find their favorite dolls outfitted in styles perfect for their next Journey Girls adventure, an Italian excursion, in stores nationwide and online at Toysrus.com/JourneyGirls. Featuring fresh faces, trendy fashions and delightful accessories, the Journey Girls collection is comprised of seven 18-inch dolls that offer children the opportunity to take imaginative, adventurous journeys with characters they can identify with.
Emily was thrilled to be able to choose any one of the Journey Girls that graced the event. It was really sweet to watch the girls think and rethink about which doll to choose. They had to decide between:  Chavonne, the multitalented performer; Callie, an aspiring dancer; Dana, the animal lover; Kelsey, who loves to seek out exciting new adventures or participate in extreme sports; Kyla, an amazing artist; Meredith, the energetic team athlete; and Mikaella, the latest addition to the Journey Girlswho loves cooking and baking. Emily chose Dana because she loves animals and because she was wearing glasses-two things in common. It was absolutely adorable to watch the bonding taking place between girls and dolls! 
During the event the girls were able to change outfits on their dollies, test out all of the upcoming furniture that included a school desk and chalkboard set, a wheelchair set, hair salon set, kitchen set and more. They also created nametags, colored pictures of Italy, and feasted on hand made and decorated canolis! What a day. It was getting to visit Italy. My favorite stop was the photo booth where Emily and I were photographed on the streets of Italy. Magnifico!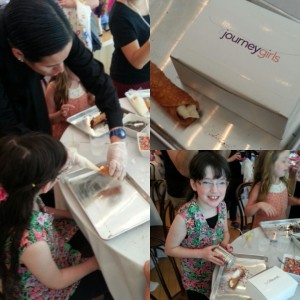 This September in preparation for the 2015 holiday season, Toys"R"Us is stocking its inventory with new, adorable fashions and accessories that help extend imaginative play. From furniture and pets, to stylish clothing and hair salon sets, all fashions and accessories are quality made, realistically detailed and scaled to fit 18-inch dolls. The brand also offers a wheelchair and crutch accessories set, providing children with disabilities the opportunity to reflect themselves during playtime. To coincide with the launch of the latest dolls, new Journey Girls accessories will debut in Toys"R"Us stores nationwide and online atToysrus.com , including a Best in Class School Set, Birthday Celebration Set and Pet Grooming Set.
If social media is your thing, and I know for most of us- we just live in it, Toys R Us will be celebrating along with us all! To celebrate the gal-pals' fifth anniversary trip to Italy,  parents and kids are encouraged to share their Journey Girls experiences with @ToysRUs on Instagram and Twitter, as well as Facebook.com/Toysrus. Fans are invited to post photos of themselves and their dolls traveling the country – or even the globe – as well as engage with one another and Toys"R"Us using #JourneyGirls. For enthusiasts looking for Journey Girls inspiration online, the Toys"R"Us Pinterest page, Pinterest.com/Toysrus, will feature the dolls' different fashion looks, delicious Italian treat ideas, do-it-yourself arts and crafts and more. Emily and Mommy are SO there! 
The following Journey Girls dolls will be available for $39.99 each, exclusively at Toys"R"Us stores nationwide and online at Toysrus.com/JourneyGirls for ages 6 years and up, beginning this September:
Check out a little bit about each Journey Girl: 
Journey Girl Chavonne from Toys"R"Us
Chavonne, a multi-talented performer, will guide the girls through Milan, the City of Theatres, in a black-and-white striped top under a vibrant pink petite coat and trendy floral pants that match her navy slip-on shoes. No batteries required.
Journey Girl Callie from Toys"R"Us
Callie will seek out the best shops to show her friends the latest fashion trends, while wearing a black-and-white mini dress paired with an embroidered, blush colored jacket and elegant pink shoes and headband to complement her entire look. No batteries required.
 Journey Girl Dana from Toys"R"Us
Dana, an animal lover, will be sure to stop by her favorite parco nazionale and protected reserves which are home to a variety of wildlife, all while dressed in a silver knit sweater and brown faux-fur vest with jeans, along with a leopard-print tote bag and chic brown boots. No batteries required.
 Journey Girl Kelsey from Toys"R"Us
Adventure seeker Kelsey will challenge herself by taking on the best hiking trails and exploring marine life within Italy's 4,000-plus miles of coastline! While out on the town, Kelsey will sport a grey and blue embroidered shift dress with navy headband, as well as a navy and emerald faux-leather shoulder handbag and navy flat shoes. No batteries required.
Journey Girl Kyla from Toys"R"Us
Kyla is ready to find the best spots rich with art and culture, dressed to explore the Italian art scene in a 'Ciao!' printed top with striped sleeves, pink wrap skirt, a black and white clutch and floral and classic pink flats. No batteries required.
Journey Girl Meredith from Toys"R"Us
Meredith's athletic charm will help inspire all her friends to partake in awesome quests in Italy, and her sense of style will shine bright, as she dons a blue sparkle t-shirt, white striped circle skirt, pink handbag and trendy pink shoes. No batteries required.
 Journey Girl Mikaella from Toys"R"Us
Mikaella, outfitted in a purple knit sweater with silver embroidery detail, metallic silver brocade pants, black flats and an elegant silver and pink envelope clutch handbag, will lead her friends to the finest cafes and pasticcerias in town. No batteries required. Available now in Toys"R"Us stores nationwide and online at Toysrus.com. 
Disclosure: A media invite was extended to Diane Sullivan and family to attend this wonderful Toys R Us Journey Girls event in NYC. All opinions are that of my own and my daughter's, Emily and are completely honest. Please contact me at Diane@3decades3kids.net and @3decades3kids across the social media platforms. No compensation was given for this post. Product samples were provided at the event. Thank you Toys R Us. We both enjoyed getting to know about Journey Girls and taking a mini trip to Italy- via Toys R Us Photobooth.