The latest Skylanders game has been announced, and it looks INCREDIBLE: this fall, clear the road, air, and sea for the vehicle-focused Skylanders SuperChargers! We got a special look at the upcoming game at an exclusive event hosted by MomTrends and Activision– read on to learn everything there is to know about the newest installment in the Skylanders series!
As you know, we're BIG Skylanders fans here, and as a family who's played through the four previous chapters in the Skylanders adventure (the 2011 debut hit Skylanders: Spyro's Adventure & its sequels Skylanders Giants, Skylanders Swap Force, and Skylanders Trap Team), we're thrilled to check out the latest additions to the franchise. But just what is Skylanders SuperChargers?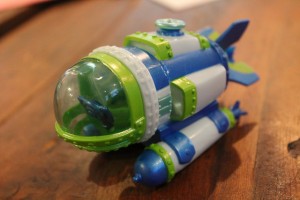 Releasing on September 20 of this year, Skylanders SuperChargers will focus on a brand new type of interactive Skylanders toy: vehicles! Yes, all of your favorite Skylanders (plus 20 new SuperChargers!) will be able to drive, dive, and fly across Skylands as they explore the world in twenty new land, water, and air vehicles. The cars (and planes, and submarines, and more!) each pair up with one of the new SuperCharger characters (like the Giants, Swap Force, and Trap Team characters that lent their names to previous games)– though any character can drive, when the vehicle and its matching SuperCharger are on the portal together, both will receive a supercharged upgrade, making them more powerful overall.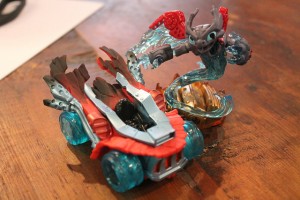 As always, the game will release with a Starter Pack featuring the new portal and three Skylanders figures– this year, those three figures are the trailblazing dune buggy Hot Streak, its partner SuperCharger (the robotic-looking flaming dragon Spitfire), and fan favorite Stealth Elf, who's been given an upgrade to SuperCharger status as well! For more about the Starter Pack, check out our sneak peek at the bundle!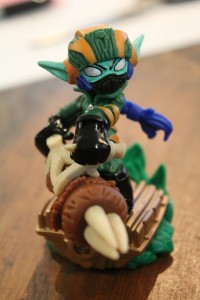 The game will also be available in a new digital Portal Owner's Pack– similar to the Portal Owner's Pack from Skylanders Giants, this new edition will allow you to use the previous game's portal (in this case, the one from Skylanders Trap Team), but unlike the previous Portal Owner's Pack, the Skylanders SuperChargers one will feature a digital download of the game rather than a physical disc, and digital versions of the starter pack characters as well.
Skylanders SuperChargers will be available on September 20, 2015 on Xbox One, Playstation 4, WiiU, Xbox 360, PS3, and iOS (and an alternate experience of the game will also be available on Wii and 3DS.) For more about Skylanders SuperChargers, check out our Ground Vehicles Gameplay, Puzzle/Platforming Gameplay, and Water Vehicles Gameplay videos!