Madame Alexander
Newborn Nursery Baby Arrives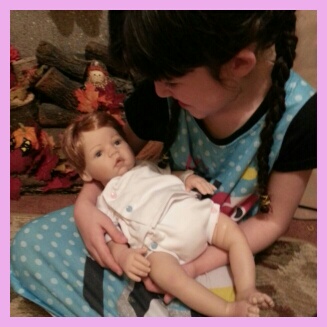 There is nothing in the world like a newborn baby. If you have been blessed in your life to have children or be close to children in your life you know the joy a baby can bring into your life. As a mom of three, I have had the experience over and over of having that little bundle put into my arms. My last baby was a little girl who is now seven years old. She is a total doll lover, just as I was a child. As a young girl I was never found without a doll in my arms and so the tradition continues. In saying that, as soon as I was advised that a Madame Alexander Newborn Nursery Baby would arrive at our house I got a little butterfly inside my stomach. That feeling came about just thinking of the special moments it would create between Emily and her new dolly.
If you are a mom you know exactly what I am talking about. I think that little girls either love dolls or don't, my daughter is in the LOVE category! She treats her dolls as if they are real friends, each one with their own personality and each one she loves in a special way. It's incredible to watch her play with dolls and makes me think back to the many many memories I have had with my own dollies and how they taught me about love, caring, and understanding.
From the minute I laid eyes on this precious little baby doll, I knew it would be instant love for Emily and the baby. It was really special to me, too. Emily was just under five pounds when she was born, the smallest of my three children. Little does she know but the baby she was holding was about the same size as her the day she was born. Wow, kind of a surreal moment of me, too.
Madame Alexander Newborn Nursery babies arrive dressed in white adorned with both a pink and blue bow on the cap and pink and blue buttons. You child can make the decision if they would like the baby to be a boy or girl. There are also many varieties of the baby available where you can choose skin, eye and hair color. This is a baby anyone would love. Your child can be much younger or older than seven and still enjoy the beauty of this newborn baby. It looks and feels like a newborn. Note to moms: You will love this baby, too!
http://www.madamealexander.com/newborn-nursery.html
Disclosure: Diane Sullivan is a member of the Madame Alexander Moms Advisory Board and is sent samples during the year to provide feedback. No compensation was given for this post. Contact me at ELGeorgia@aol.com.