Daniel Tiger Neighborhood Friends
New Toys In The Neighborhood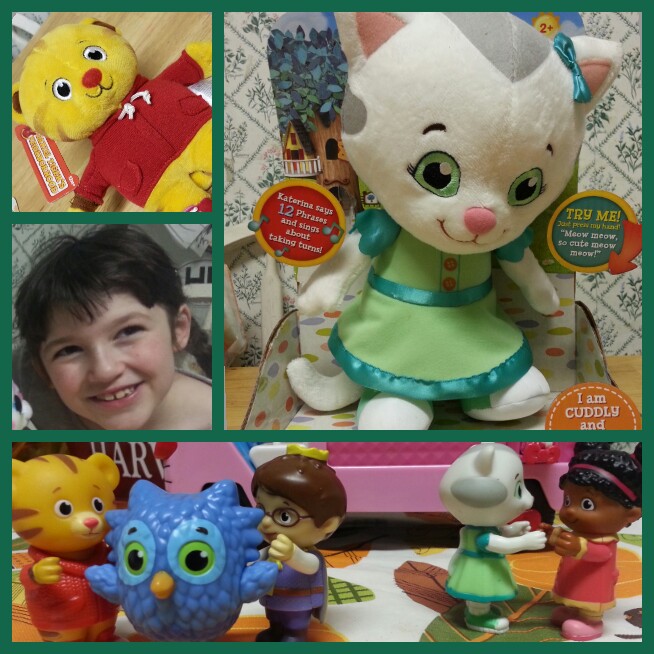 Recently my daughter and I were asked to review some new toys from Daniel Tiger's Neighborhood. As a child I was such a big fan of Mr. Rogers Neighborhood that I could not wait to see what was in store for us. When it comes to the holidays we shop early. When school starts, so does my holiday shopping! The Daniel Tiger Neighborhood Friends are just adorable and perfect for gifting to your favorite little friend!
We loved the Five Piece Daniel Tiger Neighborhood Friends 2.5" Figure Set. These pocket sized characters are great for kids and also fun to take along in your bag for the kids to play with on the go! The set includes Daniel Tiger, O the Owl, Katerina Kittycat, Prince Wednesday, and Miss Elaina. Their arms and legs and head are all movable. We had an awesome time playing with these little characters. They are perfect for little hands! You can find them at Target! (SRP $12.99, Ages 3+)
My daughter and I both loved the cuddly soft Katerina Kittycat! She is just simply adorable, dare I say, Purrrfect! Katerina Kittycat is a 12" Plush and is a wonderful friend for the favorite little person in your life. She definitely has gotten her share of hugs living with us! She says twelve phrases and even sings! So cute! She also teaches life lessons and sings about taking turns. Yay! You can find Katerina Kitty and this toy is also available as Daniel Tiger both at Target! (SRP $19.99, Ages 2+)
The third toy we checked out was the Daniel Tiger Mini Plush. What a cutie. Any child that loves Daniel Tiger will love this toy! It's a definite great little addition to the toy stack! They are seven inches long and perfect stocking stuffers for the holidays! There is a bunch of characters from the Neighbors Assortment. In addition to Daniel Tiger mini plush, you can find Katerina Kittycat, O the Owl, Prince Wednesday and Miss Elaina. They are available at Target. (SRP $7.99, Ages 2+)
Disclosure: Diane Sullivan was provided with Daniel Tiger Neighborhood toys to facilitate this review. No compensation was provided for this particular post. All opinions are that of Diane Sullivan and completely honest. Contact me at ELGEorgia@aol.com and everywhere else at .@3decades3kids.