Let's Chat With The Fresh Beat Band
Do you have a child? Then you probably know the Fresh Beat Band! You may even know some or all of the songs like I do and find yourself singing them subconsciously…or maybe even consciously. When my daughter heard that the Fresh Beats were heading to NJ PAC in Newark she was SO thrilled. She loves their episodes and music. What an energizing group. I could not wait to catch up with them and ask a few questions! I think you will love this interview. I know I did! We can't wait to see the full show and check out their new song, Walk Like an Egyptian! There is even a new animated show in the works! Yay!
Diane: What's your favorite episode? Please don't say all of them, we all have a favorite.
Yvette: We had some good ones, but I think my favorite episode was The Wizard of Song. I got to play the Tin Woman, which was really fun! They transformed the park at Paramount Studios and we got the pleasure of having the amazing Sarah Chalke and Jason Mraz as guests, who were so great to work with!
Diane: This one is from my daughter Emily.
KiKi, How long have you been playing the guitar? What age did you start taking lessons?
Yvette: I have been playing guitar for about 6 years now. Initially, a friend of mine taught me a few chords and then I was self-taught for a while before I started taking lessons. I actually learned violin first. I started taking lessons when I was three!
Diane: Tell me about the new Walk Like an Egyptian song!!!
Yvette: We have a new single out right now! It's our version of "Walk Like An Egyptian". The song will be in one of the upcoming episodes of our new animated show "The Fresh Beat Band of Spies" coming out next year!
Diane: What's your favorite part of being in The Fresh Beat Band?
Tara: Being a part of the Fresh Beat Band is such a blessing, it's such a special show. I love hearing that kids are asking for musical instruments for their birthday presents and drum lessons for Christmas! Music also has such an impact on children with special needs. We've met children who had trouble walking but learned to dance to our music. Children who weren't supposed to be able to speak but can sing along with us, being a part of something that in any way has that sort of impact is incredibly humbling and gratifying.
Diane: How is being on the road touring different than taping an episode?
Tara: Well sleeping in my own bed for one! We travel the country in a bus, a nice bus, but it's still a bus! It's funny because my co-stars became even more like siblings on the road. The touring part is actually harder because it's 6 days a week 100% full out energy for 3 hours. From the beginning of the show to the very last family at the meet and greet we're giving our all. Filming a TV show is a long day – but we have a lot of fun on set.
Diane: What's coming up for The Fresh Beat Band in the future? Working on anything we want to know about?
Tara: We're recording the voices and new songs for a brand new cartoon for 2015! It's so fun and we're working with some AMAZING people for it. We can't wait for everyone to see The Fresh Beat Band of Spies!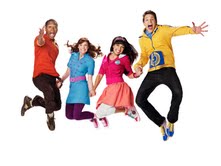 http://www.freshbeatbandlive.com/
Check out more about Fresh Beat Band on the link above.
Thanks for the awesome interview, Fresh Beats! Thanks for keeping all the kids and parents happy, entertained and singing! We love you!