Calling All #NYC #StarWars fans!!
Win Private Screening Passes to
The Disney Channel's New Show
STAR WARS REBELS: SPARK OF REBELLION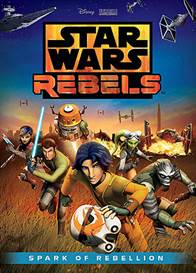 The Disney Channel's new show STAR WARS REBELS: SPARK OF REBELLION. The show will premiere on The Disney Channel on October 3 but we have a very special private event that you can be a part of on September 27 This event will be the only chance to see the first episode on the big screen. We'll be having lots of fun activities for the whole family before the screening begins, including face painters, Star Wars crafts, a demonstration from Mad Science NYC and photo opps with Star Wars characters from the 501st. You and your family are even encouraged to come dressed as your favorite Star Wars characters to win prizes from Lucasfilm.

Enter to WIN a Family 4pack to the special Private Screening Event!
Saturday 27th
NYC
9:30 am Sharp

Enter by retweeting and following .@3decades3kids on Twitter: https://twitter.com/3decades3kids/status/514141570409701377
Like our facebook page and Leave a comment on our facebook page that you want to go to the Star Wars Private NYC Screening! https://www.facebook.com/3decades3kids

We have FIVE family 4packs to giveaway! These are not screening passes. They are guaranteed seating. You name will be ON the RSVP list! See you there!


Synopsis:
A Long Time Ago, In A Galaxy Far, Far Away…Against the might of the Galactic Empire, an unlikely band of heroes emerges to renew the fight for freedom. Witness the epic debut of the riveting animated series STAR WARS REBELS, in this one-hour movie event – showing on the big screen one time only!
The story unfolds during a dark time when the evil Empire is tightening its grip of power on the galaxy. Imperial foces have occupied a remote planet and are runining the lives of its people. The motley but clever crew of the starship Ghost is among a select few who are brace enough to stand against the Empire.