Is A Perfect Place To Celebrate The Fall Season
The Count's Halloween Spooktacular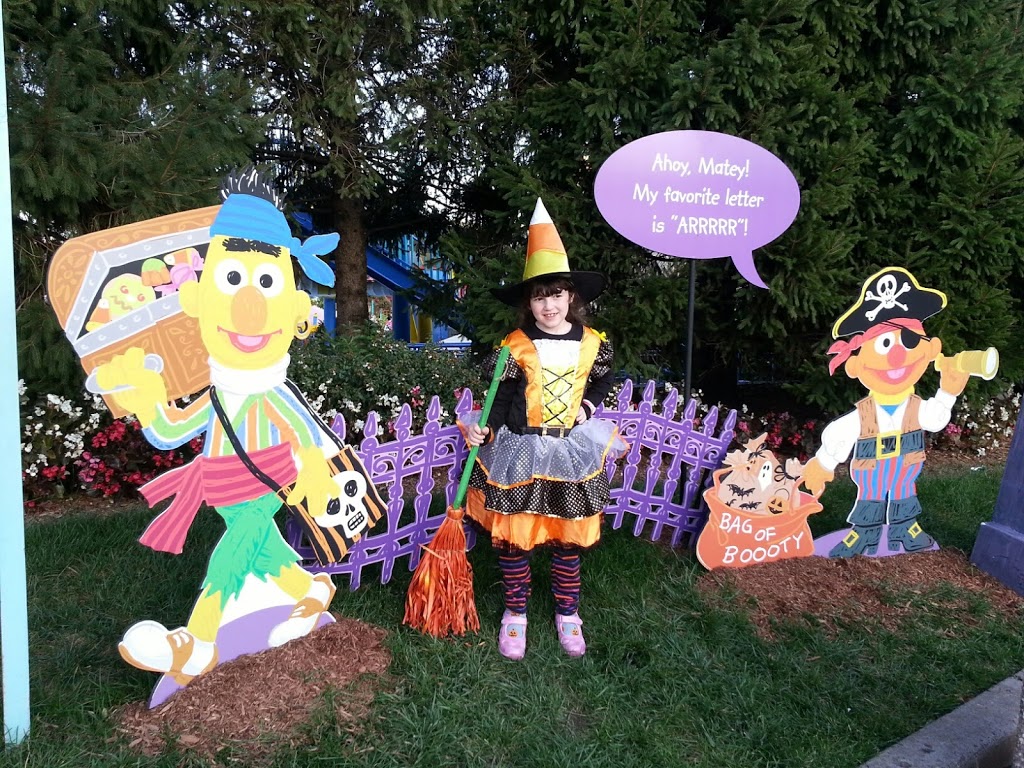 Believe it or not Fall is here and with the crispy falling leaves and the scent of pumpkin spice in the air most of us are also preparing for Halloween. Looking for an amazing experience for Sesame Street fans in your family, look no further. Sesame Place is now open and celebrating The Count's Halloween Spooktacular. Honestly, if you have never been to the Halloween celebration at Sesame Place this should be year. Don't delay.
Sesame Place has wonderful Trick-Or-Treating. Your children can dress in their costumes and have a ball. You never know how the weather will be this Halloween, so why wait to trick-or-treat! It's a great time for the entire family and some of the stands even have healthy treats!
There are awesome
Halloween shows
that you can only see during the Count's Halloween Spooktackular. The shows are located at the same places as in the summer time, but they are all changed up to have Halloween themes and one show is better than the next. We had a chance to see all of them during the past weekend. You can check out Elmo the Musical Live: Halloween(New), Who Said Boo?(new), and The Not So Spooky Halloween Radio Show. There is also a special Halloween themed parade and all of the characters are in their own Halloween costumes! What a great feeling to see your favorite Sesame Street characters in their costumes!
There is a special Halloween Fall Menu including Pumpkin Spice Funnel Cake and heartwarming comfort foods for lunch and dinner. This special menu is only available during the Halloween Spooktacular. There is even a special Kids' Meal plate and drink cup featuring the Halloween logo.
There are several different Dine With Me options and special event dining opps. These are absolutely perfect for up close play time with the characters!
While you are
Sesame Place
don't forget to visit the pumpkin patch where you can view the pumpkins donated by the Season Pass holders and buy and decorate your own pumpkin to take home with you.
Special Bonus: ALL the dry rides are open and now with Cookies Monsterland there are more rides than ever! There is so much to do! Arrive early to spend a day of fun, shows, food, characters and trick-or-treat fun. One of my daughter's favorite things to do is Abby's Cadabby's Magical Halloween Maze! It's adorable and perfect for even the tiniest of fans! There is also a hay ride complete with characters, singing and storytelling! Last but not least, we LOVE the Rubber Ducky Dance Party where kids and parents can show their dance moves! Happy Halloween. See You At Sesame Place!
Check out more about Sesame Place here: http://sesameplace.com/langhorne/
Disclosure: Diane Sullivan is a Sesame Place Ambassador Blogger. We were invited to Sesame Place for Media Day and loved it! All opinions are that of Diane Sullivan. Contact me at ELGEorgia@aol.com.