You Are Invited To The Advance Screening of Dream Works The Boss Baby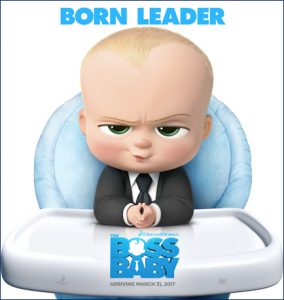 You Are Invited To The Free Advance Screening of The Boss Baby!
Click on this link to get a four pack of screening passes. Please remember to arrive early since screenings are overbooked to ensure a full house.
You are invited to the NYC Advance Screening of Boss Baby!
Location:
Regal E-Walk Stadium 13 & RPX
247 W. 42nd St.
New York, NY 10036
Date and Time:
March 25, 2017
Saturday 11:00am
(Have your pass ready to show at the door)
RSVP link: http://www.gofobo.com/UtYxG92359
Please arrive early. Screenings are overbooked in order to ensure a full house. The line will be cut when capacity is reached.
 A while back our family got a sneak peek at the beginning of DreamWorks' The Boss Baby and absolutely loved it! You are really in store for some fun with this one. Both parents and kids are going to laugh throughout the film. I am beyond thrilled to be able to invite readers of 3decades3kids to a super advance screening of the movie. DreamWorks Animation and the director of Madagascar invite you to meet a most unusual baby.  He wears a suit, speaks with the voice and wit of Alec Baldwin, and stars in the animated comedy, DreamWorks' The Boss Baby.  The Boss Baby is a hilariously universal story about how a new baby's arrival impacts a family, told from the point of view of a delightfully unreliable narrator, a wildly imaginative 7 year old named Tim.  With a sly, heart-filled message about the importance of family, DreamWorks' The Boss Baby is an authentic and broadly appealing original comedy for all ages.  http://www.dreamworks.com/thebossbaby/
Directed by: Tom McGrath
Written by: Michael McCullers (based on the award-winning picture book by Marla Frazee)
Cast: Alec Baldwin, Steve Buscemi, Jimmy Kimmel, Lisa Kudrow, Miles Bakshi
THE BOSS BABY hits theaters everywhere on March 31, 2017!
Disclosure: Diane Sullivan/3decades3kids is a DreamWorks Partner Blog. All opinions are that of Diane Sullivan and do not reflect the opinions of the parent company represented. Our family was presented with a media invite as well as screening passes to share with our readers. No compensation was given for this post. Contact me at Diane@3decades3kids.net and @3decades3kids across all social media platforms. Snapchat us at: ThreeDecades