Precious Moments and Care Bears- Perfect Together!
Disclosure: Diane Sullivan/3decades3kids is a Precious Moments Ambassador Blogger. All opinions are that of my own and do not reflect the views of the parent company represented. Sample products were provided in order to facilitate this review. No compensation was given for this review.
If you know anything about me by now it's that I absolutely love to celebrate the little things in life. It's not wonder that we have been collecting Precious Moments forever. When I first heard about the Precious Moments Care Bears collection I knew it was something I had to see. They looked supercute. When our box arrived my daughter and I could not wait to open it and see it the figurines lived up. There are six different Precious Moments Care Bears. We chose "Sharing Is Caring" and "Follow Your Heart". For nearly 40 years, Precious Moments has been creating gifts that celebrate caring, sharing, and love.  Precious Moments wants to share the care with their Care Bears line. Celebrate with everyone's favorite bears from Care-A-Lot!
We loved the pieces immediately. They both lived up to the Precious Moments and the Care Bears line. They were super cute and would be a wonderful addition to any collection. As for my daughter, she immediately claimed them and brought them into her room. That is where we discovered that they linked into each other. It seems that each of the six figurines can connect onto another from either side. They look great standing alone or in groups of two or more.
They also each share a special message. We chose "Sharing Is Caring" because it is one of the mottos we try to live by with both family and friends. This figurine features Share Bear. We try to share with each other and also with others. It's a life skill that I hope my daughter will carry with her throughout her life. Hopefully this little Precious Moment will be one that lasts a lifetime and ever time she looks at it, it confirms something positive in her life.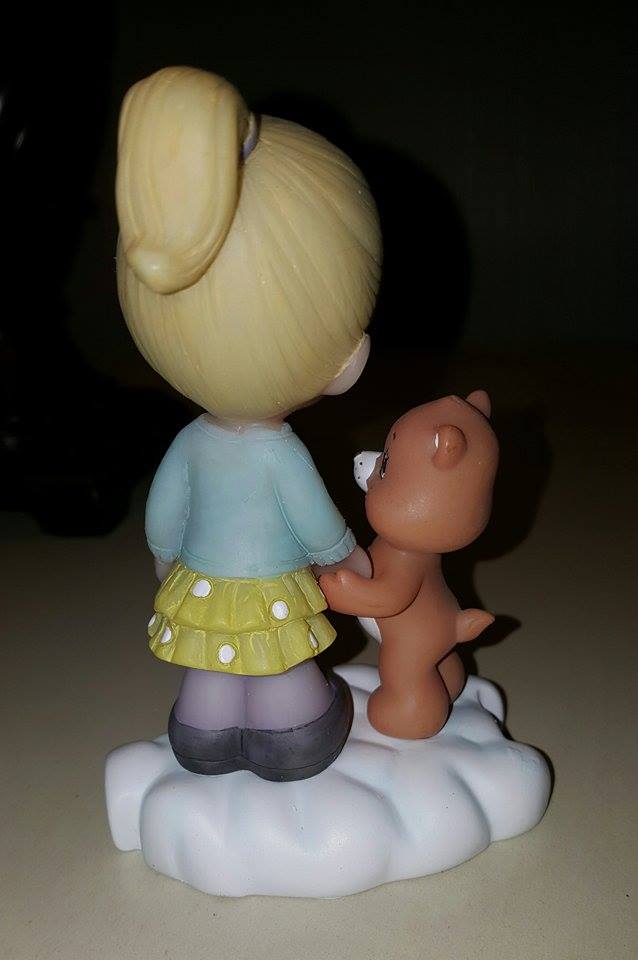 The other piece we chose was "Follow Your Heart". This figurine features Tenderheart Bear. He is definitely one of my favorites. As a mom, what better message can I give my daughter than to follow her heart! Life is tough and she is about to hit the tween and teen years in the blink of an eye. Holding the Precious Moments figurine and explaining to her how it's important to always follow your heart did have my eyes fill up with hopeful tears of love. My sweet little girl was all ears. I am hoping that this beautiful Precious Moment is one she will remember forever and that each and every time she looks at it she will be reminded of our conversation and always remember to follow her heart.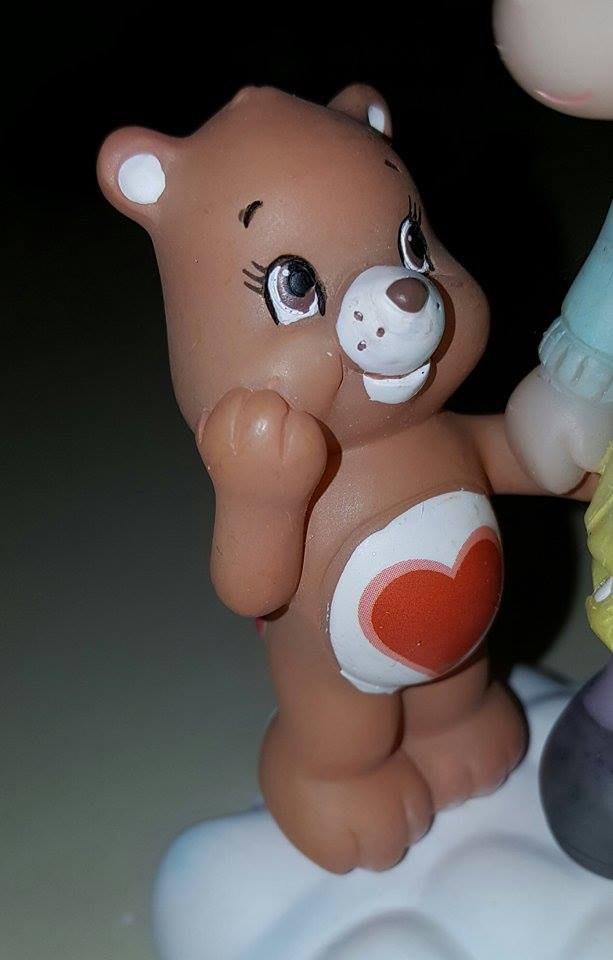 Below you can find all about the entire collection of six Precious Moments Care Bears. They are priced reasonably and would make a great gift for anyone. They are perfect for encouragement for little boys and girls and of course wonderful for collectors of all ages. I'm already planning to get another one or two for Emily for her great report card (Full Of Cheer) and for an end of school year gift and beginning of summer (Fun In The Sun). I'm not sure if she will get the entire collection, but that is what is good about these figurines. You can buy one, two or all. If you have someone in your life that is a fan of either Precious Moments or Care Bears they would definitely love this. http://www.preciousmoments.com/
Perfect Harmony: Share the day with this sweet little one and Harmony Bear™. Makes a great gift for someone that loves you just the way you are! Resin. SRP: $20.99
Full Of Cheer: Sweet polka dots and a rainbow hair-pin complete this cheerful picture of a little girl who is thrilled to be sharing her day with Cheer Bear™. Send some cheer to your favorite friend and share the gift of love. Resin. SRP: $20.99
Fun In The Sun: Life your spirits with these sunny friends adorned in matching heart-shaped sunglasses. Have a laugh with Funshine Bear™ and give this flip-flop clad darling to someone who could use a sunny day! Resin. SRP: $20.99
Sharing Is Caring: This pigtailed cutie is dressed up in polka dots and a smile as she accepts a delicious cupcake from Share Bear™. Share this sweet treat with someone who always shares with you! Resin. SRP: $20.99
Follow Your Heart: Take a walk through the land of Care-A-Lot with this sweet girl and her favorite friend, Tenderheart Bear™. Makes the perfect gift to encourage your loved ones to follow their hearts. Resin. SRP: $20.99
Hug With Care: Sometimes a hug is just the ticket to cheer someone up! This sweet little girl offers a friendly hug to Grumpy Bear™, who has been spotted with a rare smile now and then. Send this gift to make just about anyone smile. Resin. SRP: $20.99
Check out the Precious Moments Care Bear Collection here.
Disclosure: Diane Sullivan/3decades3kids is a Precious Moments Ambassador Blogger. All opinions are that of my own and do not reflect the views of the parent company represented. Sample products were provided in order to facilitate this review. No compensation was given for this review. Contact me at Diane@3decades3kids.net and @3decades3kids across all social media platforms. Snapchat us at ThreeDecades 3decades3kids.net