Kong Skull Island Experience Now Open At Madame Tussauds Times Square NYC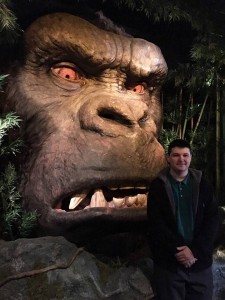 Madame Tussauds in Times Square has unveiled their brand new exhibit based on Legendary Entertainment & Warner Bros' new film Kong: Skull Island, which releases on March 10. The attraction features a hyper-realistic model of the film's main character James Conrad, played by Tom Hiddleston. Madame Tussauds New York will launch the brand new space and unveil its first-ever wax figure of Tom Hiddleston as Captain James Conrad. Visitors will join Captain Conrad on an adventure deep into the tropics of Skull Island before coming face-to-face with the monstrous Kong himself.
Fans will get to make their way through Skull Island, seeing replicas of a giant Mother Long-Legs spider on their way to encounter the largest animatronic in New York City. At a towering eighteen feet, participants will have the chance to come face-to-face with the beast himself — the legendary King Kong. Taking months to create, this is Kong in his most true form yet. Kong-head made from over 350 square feet of specialized faux hair.  Taking a team of thirty three artists, the full project took over seventy days to complete. The beast acts in a very lifelike manner, as his eyes look around the room. Seeing how his mouth moves, and how he lets out large growls periodically really makes you think twice about what it would be like to be on Skull Island! I know that is a place I would definitely visit if I had the chance and this experience let me feel as if I actually had that chance. Check out what we thought of the movie here.
Being a King Kong fan forever this exhibit was like a dream come true. It really gave me a chance to feel first hand what it would be like to come up face to face with KONG! Bravo, Madame Tussauds, you have done it again! This one is a real gem for any King Kong fan. We also had the chance to talk with a representative from Madame Tussauds about the partnership with Kong: Skull Island, and you can check out the interview HERE and also get a sneak peek at the exhibit!
Disclosure: Diane Sullivan/3decades3kids is a Madame Tussauds partner blog. All opinions are that of Diane Sullivan and do not reflect the opinions of that of the parent company represented. No compensation was given for this post. A media invite to the ribbon cutting of the new exhibit was presented. Contact me at Diane@3decades3kids.net or @3decades3kids across all social media platforms. Snap us at ThreeDecades! See you at the movies! 3decades3kids.net