Warner Bros Presents KONG Skull Island In Theaters Now – Review #NoSpoilers
 King Kong has always been a big license in our household. From the original 1933 film to the newer adaptations, my family has always enjoyed the series. The newest addition to the franchise, Kong: Skull Island is one of the most visually impressive and fun movies to release this year. My family had the opportunity to see the film in IMAX 3D a few days ago. One word- Incredible! The wide shots of the beautiful Skull Island looked great on a large scale. It gave you the intense feeling of actually being right on the island. Skull Island is a tale of survival, and the bond between the survivors and the beast.
Kong: Skull Island pits a crew of soldiers, an anti-war photographer, a very skilled tracker, and a few scientists against a wide array of vicious beasts unseen by the world previous to their expedition. From the towering and frightening Mother Long-Legs to Kong himself, the crew is overwhelmed with danger. In one of the best films of 2017 so far, viewers will get to experience a gripping story, great performances from the main & supporting cast, and the fight sequences that make the film stand out.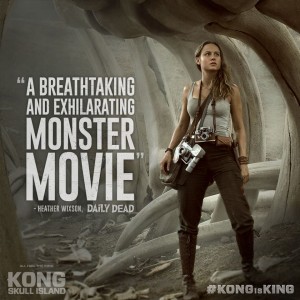 The story takes place in 1973 where a former British Special Air Service Captain James Conrad (Tom Hiddleston) is hired by the government agent Bill Randa (John Goodman) to head an expedition to the uncharted isle Skull Island located in the Pacific Ocean. Accompanied by Lieutenant Colonel Preston Packard( Samuel L. Jackson) and photojournalist Mason Weaver (Brie Larson).
The action in this film begins immediately with an initial attack form Kong who towers over a hundred feet tall. There are gigantic spiders and skullcrawelers , Forbidden Zones and missing people!  I really cannot say much more without giving away the movie. It's a Kong fan's dream come true. If you like King Kong do not miss this one. As for my family, we loved it! Worth the money for the  IMAX 3d experience. Check out everything about the movie here: http://kongskullislandmovie.com/
In addition to the movie our family had a chance to check out the latest exhibit newly added section KONG: Skull Island at Madame Tussauds Times Square. It's an interactive experience that takes you through the wilds of Skull Island and brings you face to face with Kong himself. Kong's head is over eighteen feet tall and animatronic with moving eyes and mouth along with sound. It's the perfect accent to seeing the movie! Have a KONGtastic Day! Check out the Kong: Skull Island Experience at Madame Tussauds here:

http://3decades3kids.net/blog/2017/03/kong-skull-island-experience-now-open-at-madame-tussauds-nyc/
Disclosure: Diane Sullivan/3decades3kids is a Warner Bros partner blog. All opinions are that of Diane Sullivan and do not reflect the opinions of that of the parent company represented. No compensation was given for this post. A media invite to view the movie at IMAX 3d was presented. Contact me at Diane@3decades3kids.net or @3decades3kids across all social media platforms. Snap us at ThreeDecades! See you at the movies! 3decades3kids.net