Neighborhood Street Party
Commercial Taping at Sesame Place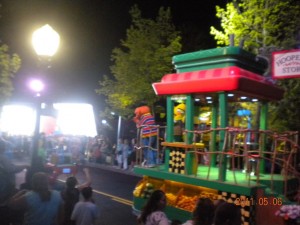 Last night I was pleasantly surprised to be a part of the
Sesame Place commercial taping of the
I have already seen the new parade a few times
April 30th for the 2011 season.
Neighborhood Street Party Parade has the perfect
name
because it is just that,
a combination of a party and a parade all in one!
Since we really enjoyed the parade during the day,
my family and I could hardly wait to see it in the dark.
We arrived just before the sunset.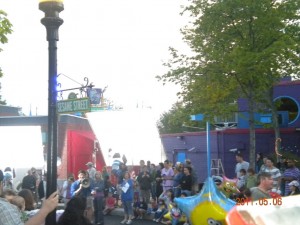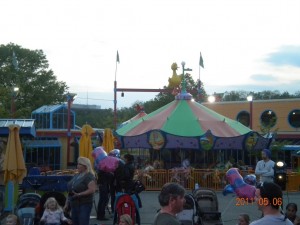 It was wonderful to see the sun go down around Sesame Place
and the production crew set up for the night taping.
They greeted the actors and crowd of extras (which we were a part of) with directions and enthusiasm. Everyone was excited in anticipation of what was to come. Families were taken to Sesame Street, set up and given a spot. Our family was thrilled to be offered the Fire Truck! The props were given out, and soon after the director gave out the "Roll Em" call! There really wasn't much acting to do once the parade began. Everyone could not help but sing, clap and dance to the happy music!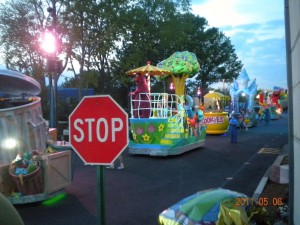 The parade features songs that help children learn about
numbers, letters, and friendship!
One song is more energetic than the next!
The fun went on and on as we waved and danced along with
Elmo, The Count, Bert and Ernie, Abby Cadabby, Zoe, Cookie Monster, Rosita, Big Bird and Telly!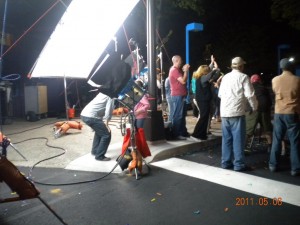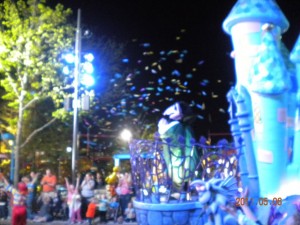 You can already have fun with the day time parade
at Sesame Place, but to see the night time version you will have to wait until June 18th at 9pm.
If you are going to Sesame Place,
make sure you don't miss out on this night time fun!
You won't be disappointed!
As, for the commercial shoot,
I don't think we made it into any of the clips,
but it sure was great to be a part of all the fun!
Commercials will start to air in June!
Meet you at Sesame Place!
All opinions are that of 3decades3kids
Special thanks to Sesame Place, Langhorne, PA