Since my family has the season pass, we try to go as much as we can. We especially love Sesame Place's Concert Series. This past weekend, Sesame Place hosted one of my daughter's favorites:
A few months ago we had seen Max & Ruby's Bunny Party Live at Best Buy Theater in NYC, so we did not know exactly what to expect to see at Sesame Place. We were very pleasantly surprised by the show. It was a mini version of the Live Stage Show that is touring. Max & Ruby were up close and personal as they sang some of our family favorites: Max, Where are you? Gorgeous! Getting Ready for the Party! and more! Of course Emily knew every song and was more than happy to sing and dance along. Max even had his Can't Sit Up Straight Slug with him and of course Ruby had her beauty kit to help Max become Gorgeous! I could not get over how much fun was packed into this 30 minute show!
We had our tickets reserved for the first show. Tickets are free with paid admission to Sesame Place with a limit of 5 per family per event. But, we did end up seeing the show a second time by entering the stand by line. My daughter can not ever get enough of Max & Ruby and why should she have to?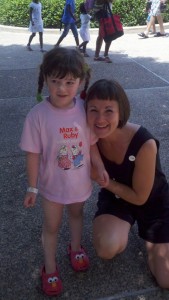 We also had the pleasure of meeting and chatting with Laura who stars in the show alongside Max & Ruby! She was a delight and let us know about all the places Max & Ruby have been on tour, including NYC, Canada, France, Korea, Tokyo and more! She really kept the audience singing and hopping, especially during the songs Big Blue Bus and Gorgeous!
If you are a Max & Ruby fan, be sure to check the schedule of upcoming shows. Do not miss this one, you will not be disappointed!
Special thanks to Max & Ruby produced by KOBA Entertainment.
Special thanks to Sesame Place.
All opinions are that of 3decades3kids.