Program from New York Theatre Ballet
New York Theatre Ballet
Presents
Sleeping Beauty
Florence Gould Hall
55 East 59th Street

Recently, thanks to New York Theatre Ballet,
my daughter and I were able to share a little quality
Mommy and Daughter time together.
What better place to bring back the ballet memories
of my own childhood
while allowing
my daughter to create her own.
As soon as we arrived to the theater, the magic began.
We made a quick stop at the souvenir area,
where everything "Ballerina" was available.
There were plenty of choices,
but my daughter chose a
wooden play string ballerina
and glitter ceramic ballet slippers.
Soon after we were greeted by some of the children that would actually be a part of the ballet, Sleeping Beauty.
They could not have been any nicer,
handing out programs and even some crayons!
Emily and her wooden pull string ballerina.
Emily and I were taken to our seats,
where we chatted about what was to come.
It wasn't long before Artistic Director Diana Bryer,
playing the witch, came out for a
short presession on ballet mime.
That definitey put my daughter at ease and
seeing as it was interactive,
it helped to get the jumpies out before the ballet began.
The lights were dimmed and the ballet,
Sleeping Beauty, was about to begin.
The opening scene was breathtaking!
The costuming was absolutely beautiful,
as were the stars of the show.
The set was spectacular and carried the story
from scene to scene without a flaw.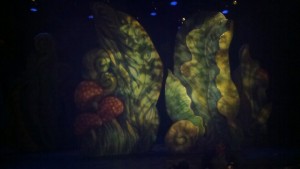 Set design before the show began.
It made all of us feel as if we were deep in a fairy kingdom,
set beneath the roots of a giant tree.
The music filled the air with fantasy as everyone danced
to the music of Peter Tchaikovsky and followed the flow of the fairy wings that adorned some of the ballerinas' elegant costumes.
I loved so many things about the experience of seeing
Sleeping Beauty preformed as a ballet.
It was great that the ballet was just one hour long,
just long enough to hold the children's attention.
There was a great introduction before the show started.
Finally, I thought the ballet was easy for the children to
follow and understand.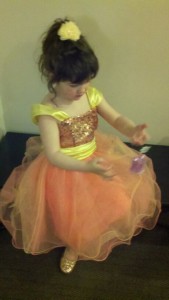 Emily at the ballet. It's more of a casual ballet,
but my daughter will never pass up a chance to wear a dress!
This was the second ballet that I have gone to at the
New York Theatre ballet,
but I have a feeling it won't be the last.
There is no time like the present to enjoy
the ballet with someone you love
and make memories that will last a lifetime.
Although this ballet was specialized for children,
there were many adults there, as well.
By the sound of the loud clapping at the end of the ballet,
I would have to say that everyone,
children and adults had a wonderful time.
I know that Emily and I did.




NYTB.org
Disclosure: Special thanks to New York Theatre Ballet.
All opinions are that of 3decades3kids.