Recently, my family and I had a chance to attend Max & Ruby Bunny Party. This was a live action musical featuring the characters from the Max & Ruby show and the Rosemary Wells book series. If you have a little person in your house that is a fan of the Max & Ruby show or Max & Ruby books, you will not want to miss this Live show! The show is SO true to the television show and books!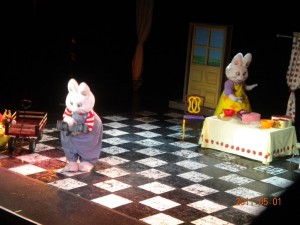 The joy of watching my daughter's eyes light up when Max & Ruby entered the stage was just unimaginable.
I thought she was going to jump through the roof
Max & Ruby Bunny Party is a musical production.
The songs are so lively and have the children singing and dancing in their seats and in the aisles!
Max & Ruby Bunny Party is based on everyone preparing for a party for a surprise guest! My children were so happy to see not only Max & Ruby, but also Louise and a few other surprises!
My daughter's favorite scene included Ruby,
Louise and
a make up kit!
He was "Gorgeous" by the end of the song!
Another fun thing about this show is how interactive it is,
as the cast asks the children in the audience what to do!
I loved how involved the children were, calling out their answers! Adorable!
So, if you are looking for a great musical fun-filled show,
Max & Ruby Live is a great choice!
I will be sure to go to this show again when it's local!
There are also plenty of Max & Ruby souvenirs to take home, including tee shirts, stuffed Max & Ruby, a soundtrack of the show, show light , Max & Ruby sillybands and more!
Click Below for more Info and Future Show Dates!
Special Thanks to Kobaentertainment.
All opinions are that of 3decades3kids.