Happy Birthday, Louie! When Your Son Grows Up…
If you are a mom like me, you are constantly worrying about your kids. From the minute my first son was born twenty- eight years ago I think I have worried every single day. It's just who I am. Along with raising children there is always that little voice in the back of your head saying just how fast it all goes. Within weeks of bringing home your baby you start to see that life moves on and it goes FAST! You blink and your baby is starting school, then it's high school, and soon you are sitting in the passenger seat of their new car. Then they tell you they are in love and getting ready to propose…and you just hold your breath because you know that your time is limited, more limited than ever. That is kind of where I'm at right now. Well, not kind of, it IS where I am at right now. The wedding date is set for this coming fall and I could not be any happier. Our family just loves our daughter in law to be and feel like she has already been a part of the family forever.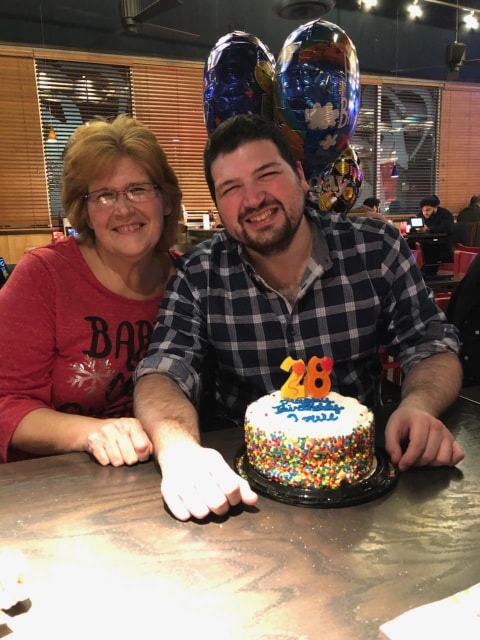 But, there is still that whole mommy thing going on. All of the lasts before the wedding. The last Christmas, last vacation, and yesterday, the last birthday of my son waking up at home on the day he made me into a mommy. Honestly, it went much better than I thought thanks to calls and texts from friends and family who knew what the day would be like for me. I mean, it seems that when it is the last of something with your kids, their entire life flashes in front of your eyes. It wasn't just waking up on his birthday yesterday, it was thinking of EVERY birthday for the past twenty eight years. It was thinking of  all the birthday themes of Pokemon and Batman and Ninja Turtles and all the Chuck E Cheese parties.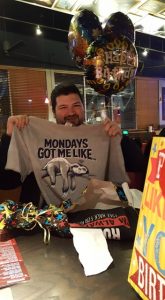 It was all the memories of my mom and dad being there along with his grandma and everyone else who is gone now. So my mind was just bending when I woke up yesterday morning. And for the 28th time I set up the traditional birthday table and took a deep breath because just like everything else in my life I face it head on and just deal with it. I wanted to be sure I didn't ruin the day with my own selfish emotions ( I took care of that during the night snuggled up with a box of tissues) but by the morning I was okay, I was ready. I was grateful. And I was happy. I was happy that I had the chance to celebrate not only my oldest son's 1st birthday, 10th birthday, 13th birthday, 17th birthday, and 21st birthday, I was HERE, I was here to celebrate his 28th birthday! I felt so grateful…..
It was definitely a day to be celebrated and although some people may judge me for having a cake for my adult son, let me just say that your children will grow up, too. They may be ten now but they will be twenty someday, and I hope for their sake you still find the time and love to celebrate them. Yes, he celebrated with his bride to be of course, but he also left a little time for his family and I cherish that.  Next year he will be waking up on his birthday as a married man. Next year I'm not sure how I will feel on his birthday, but as for now, I am ready to celebrate my oldest son. Even though he WAS IN the bathroom when the cake was brought out and had to blow out a lighter instead of candles I'm sure the wishes were still the same! We will definitely not forget that special moment and either will the waitresses as they arrived to our table, candles lit, singing the birthday song only to find out that the birthday boy's seat was empty. Hilarious and a first for any birthday I've been to, but that is exactly what memories are made of- laughs and love!
So we celebrated! We headed out to dinner at Red Robin and brought a cake along, and candles, too! The day was perfect for this mom and I can only hope the day way perfect for my son, too. Life goes by way to fast to not celebrate with the ones you love. Happy 28th Birthday, Louie! Here's to many more birthdays. Here's hoping every birthday is better than the one before…Here's to a mom's never ending love for her son.  Here's to celebrating life! You are only given this day and never promised tomorrow. Enjoy life! 
Disclosure: This is a personal post by Diane Sullivan. All opinions are my own and honest. Contact me at Diane@3decades3kids.net for collabs.