Should I Visit Kalahari Resort In The Poconos?
Disclosure:Media Trip provided by Kalahari Resorts brand. Our opinions do not stand for the views of the partner company.
Searching out water park resorts can get really tough on both the mind and the wallet, so I would suggest getting as much information about each of the water parks you would like to visit before jumping in! Recently our family was invited to visit Kalahari Resort in the Pocono Mountains. We have visited the resort before, but not since the big addition expansion to the water park. The first two times our family visited I thought it was really too big for us. Everything seemed so far away from the room, and it was super crowded both of those times. This visit was a bit different. It seems like Kalahari Resort in the Poconos has found its groove. There is a total sense of relaxation that surrounds you that just was not there the past two times. So immediately our family was thrilled about the new vibe. The trip only got better from there.
If you did chat with me in the past you may not have gotten the same reaction as you get from me now. I have changed my mind about Kalahari and its for the better. Honestly, you cannot help but feel some type of emotion as you drive up to the Kalahari Resort. The place is massive and adorned with paintings of savanna animals covering parts of the outside of the resort. As you go up the entrance way you will also be greeted with statues of animals along the way making you feel like you are not in Pennsylvania at all but maybe ready to go on safari. You can arrive before noon to check in and I would definitely suggest doing so. If you are shelling out the bucks why not make the most of the time. The rooms do not come available until later in the afternoon but there is plenty of activities to do while you wait. You are even permitted into the waterpark before your room is ready! Bonus! That means if you are traveling for one night, you can actually spend TWO days at the water park! Check out will be at 11 am the following morning, but you can spend all day at the waterpark and in partaking in resort activities.
Luckily for us our room was ready when we arrived. The last two visits we  stayed in the Desert Room which has two queen beds and a sleeper sofa. This trip we were surprised with the African Queen Suite! Woooza! What a room or should I say suite! If you can swing this room, GET IT!! It has a total of three rooms, three TVs, a fireplace and a balcony. There are also two full bathrooms and a mini kitchen with table and chairs. Problem- You will not want to leave the room to go out into the resort! I was absolutely in love with that suite! You know how I speak the truth- good or bad, this was good, very good! The one bedroom had a king sized bed and private bathroom, the second bedroom had two queen sized beds, and the living room had a pull out sofa, coffee table, comfy chair, fireplace and balcony. There really were three and a half rooms because the half room had a mini kitchen and table with chairs. Can I move into this room??!!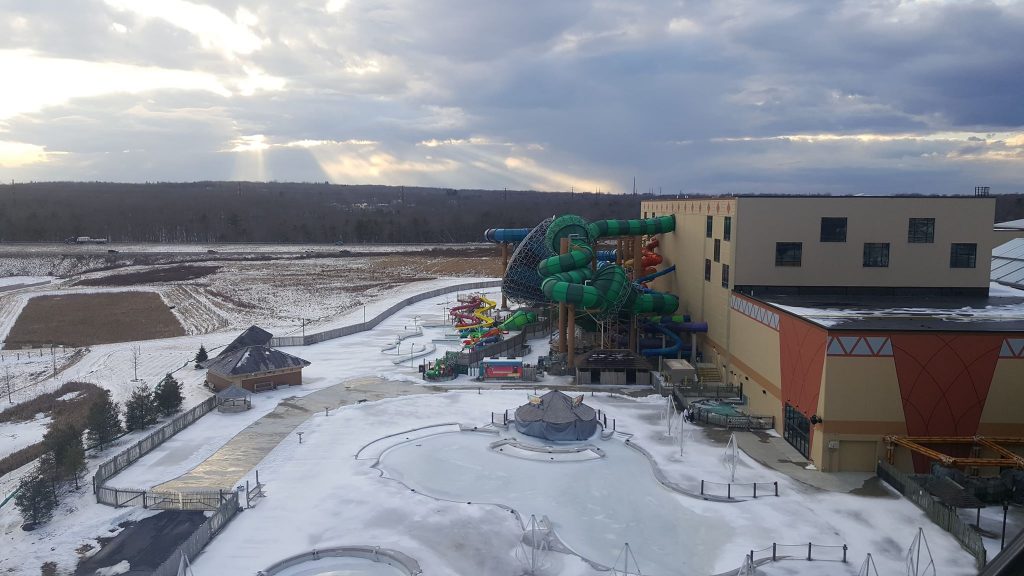 Our balcony looked over the water park and outdoor pools. You could also see the indoor outdoor hot tub which is absolutely one of my favorite things about Kalahari! We later headed down and into the indoor outdoor hottub. It was freezing outside but the water was SO warm, you did not even realize it. I'm a big fan of outdoor hot tubs in the winter, I just love them!
After everyone checked out the room we swim-suited up and headed to the water park. Personally, I could not wait to see what the expansion looked like. I couldn't imagine the water park being even bigger than last time. Well, it was, and it worked. It was perfect. The wave pool was great and a definite plus to the add on.  The wave pool is quite big so I would recommend staying pretty close to your kids. Kalahari does have a life vest policy for all children 48 inches and under that must be abided by for your child's own safety. As you know my kiddies are all past that stage of life. On that note, let me say that going out as a family with  tween, teen and adult children can be very challenging. It's hard to find a place where everyone can come together and just enjoy themselves. Kalahari met the standard and we all had a great time. It seems like waterparks are for ALL ages and there definitely was something for everyone in our family to keep them happy!
If you do have littles in your family rest assured, there is a huge kiddie zone that even includes the most adorable mini lazy river. This is in addition to the TWO lazy rivers that are for all ages. There are also more than one kid zone so your family will not get bored. I did not see a lot of melt downs during our time in the water park so the littles definitely were having fun. There are pint sized slides, swings, and water activity play stations. There are even savanna animals in the water for the kids to sit on. The last time we visited, Emm was still little enough to have fun in the kids zone and she absolutely loved it. Your kids will, too! We especially love the entrances to the kid zones, one that has two extremely tall giraffes nuzzling and the other called Coral Cove which tall aquatic entrance way just calls to you. Rest assured that towels are provided inside the water park as well as safes (additional charge- worth it) of different sizes.
So, up front, our main reason about visiting Kalahari Resort was to spend as much time in the water park as we could! We did enjoy both days there and if you are looking for a tip, here you go. After about 6 pm the lines were minimal to all the water slides, during the day there was a wait for everything. So, if you have sliders and riders in your group you might consider heading the water park a little bit later in the day. You can check out everything there is to do in the waterpark here: https://www.kalahariresorts.com/pennsylvania/parks-and-passes/indoor-waterpark/
We did leave the water park to enjoy the huge arcade that even has bowling and an escape room, and mini golf as well as to take part in the complimentary cookie decorating that takes place every day. There are plenty of activities for kids to take part of in the Adventurer's Club! Once again, they have activities for all ages in your group which makes family time a breeze! When meal time rolled around I was thrilled at all of the on site choices and the range of what they had to offer. There is one thing I am absolutely obsessed with and it is getting tiramisu served in a chocolate molded cup! It is the BEST! I have gotten it each time we visited Kalahari and have even thought about driving there just to GET this amazing treat! It is not only Instagram friendly, it is delicious! There are many desserts and treats to choose from. My family has sampled many of them, including the ice cream, which is another mouth watering treat! When it comes to cute, Kalahari has it covered with the refillable character topped sippers and refillable popcorn bucket that also has a popcorn slide around it. It's really a keeper and you can fill it up for $1.49. It's a great water park treat for kids.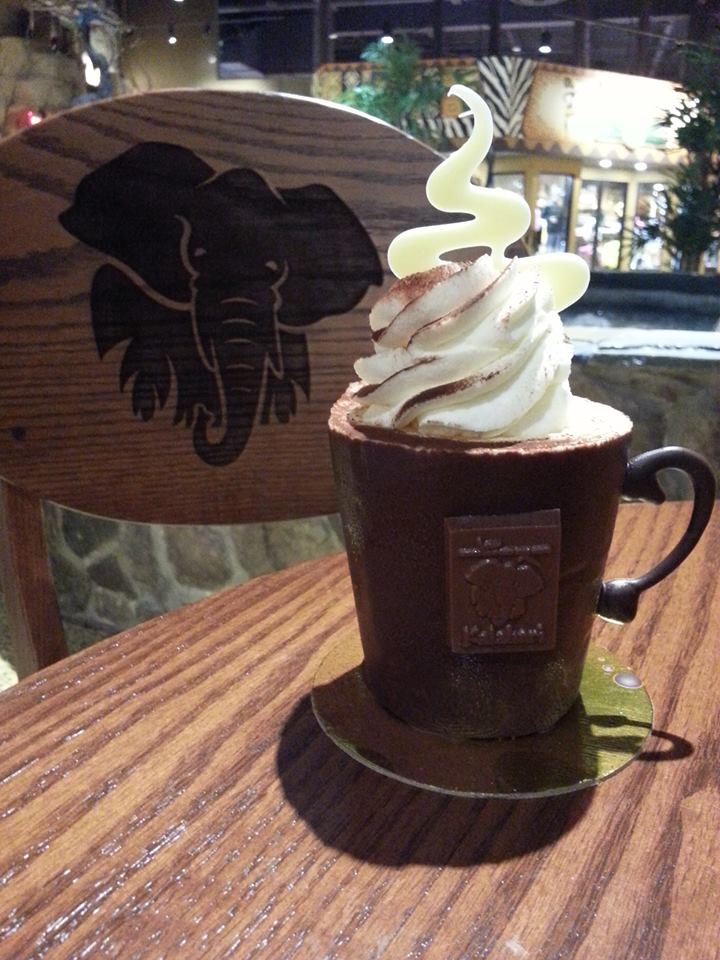 Our family had the chance to enjoy breakfast at the Great Karoo Marketplace Buffet. I would definitely recommend adding this to your reservation in advance. There was an extensive breakfast menu that included chef made omelettes, a meat cutting station, kid's bar, fresh fruits and more. There is something for everyone. I also loved how there were four pancake syrups on every table! Yes, we tried them all! They had my favorite, Eggs Benedict, so my day was made! Thanks, The Great Karoo Marketplace!
Well, I think by now you get the idea. We enjoyed our visit to Kalahari Resorts! I'm glad we had the chance to go back and revisit after the expansion. I'm glad we had a chance to spend so much time in the water park. It was just amazing. As I'm sitting here now I'm thinking about how I wish I was there right now! Well, there's always the summer, right?! Did I mention there is a full outside water park? Although it was iced over, it sure looked incredible! See you next time or as they say in Swahili- Kuona Wakait Mwingine!  
Disclosure: All opinions are that of Diane Sullivan and do not reflect the views of the parent company represented. Complimentary stay provided by Kalahari Resorts. Contact us for collabs at Diane@3decades3kids.net or @3decades3kids across all social media networks.