Fighting With My Family- Chatting With the Cast
Recently I was invited by Annapurna to screen Fighting With My Family and then sit down with the cast to chat about it in NYC. Being a mom of three and seeing how children develop their own goals as they grow up really hit a chord for me throughout this movie. Although the movie is about WWE Superstar Paige (and it is), it's more about family. You do not have to be a WWE fan to enjoy this movie! So, I guess you are wondering exactly what the movie was about, aren't you? From the small town in the United Kingdom to the prestigious ring to the WWE Fighting with My Family shows off overcoming hardships as a family to achieve your dreams. The movie centers around Paige, a WWE Superstar with an origin story perfect for film. Growing up as part of a wrestling family, Paige and her brother dreamed of joining the WWE all their lives. From partaking in their own family wrestling events which had quite some popularity in their hometown to training towards their goal, they were dead-set on joining the biggest wrestling league in the world.
However, things become complicated after Paige gets accepted to continue to Florida after try-outs, while her brother doesn't. So, now while her dream becomes a reality, she must leave everything behind including the one who was along with her hoping for the same thing. Fighting with My Family is a story of triumph, as Paige pushes herself to her limits and works to become one of the best and youngest fighters to compete. The movie includes cameos and scenes featuring WWE stars such as Dwayne "The Rock" Johnson, along with a few others. Perfect for everyone in the family, the film showcases success through hard work, following your dreams, and giving your all to creating the best possible outcome. Dwayne "The Rock" Johnson will make you laugh for sure!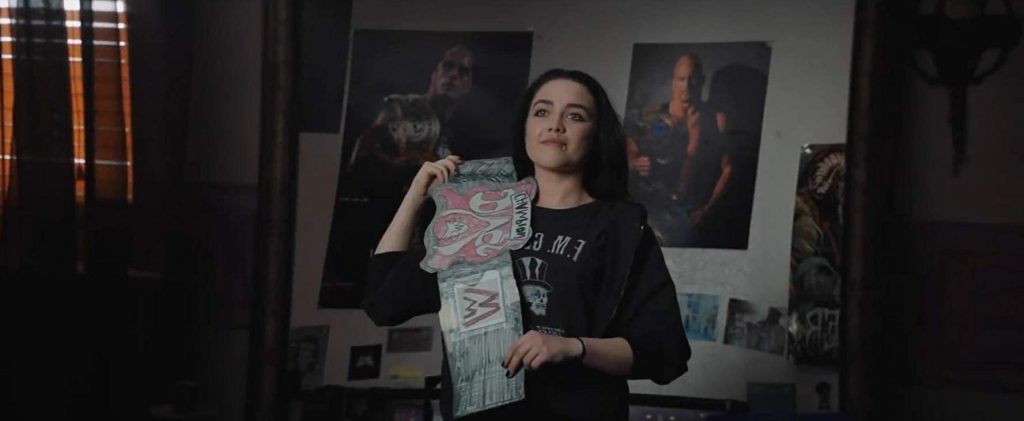 As we watched the movie I took note of the laughter in the theater. There may have also been a few tears of emotion. Fighting with My Family is a family movie, it's a friends movie, it's a date movie, it's a go by yourself movie, it's what ever you want it to be movie- but, you need to see this movie. You will enjoy it and get lost in the story, based on Paige's real life!
We all live our life. We all have goals. But not all of us get our life and goals made into a movie! I could not wait to sit down with the cast of  Fighting with My Family to find out more about the making of this movie. I was thrilled to meet  Lena Headey, Nick Frost, Florence Pugh, Jack Lowden, Stephen Merchant as well as WWE Divas Champ Paige herself! Chatting with both the real life Paige sitting next the movie Paige played by Florence Pugh was quite an honor.
I could not wait to ask WWE Paige about what her real life family thought when the idea of  making a movie about her life rolled around.
How did your real life family feel when the movie idea was coming about?
Paige: They were very, very excited! My dad is always one of those people who says, "Don't get your hopes up there because it may never happen." He always  says we'll see, we'll see. If it does actually happen, I want Ray Winston to play me. Nick did all right! (about Nick Frost who plays Ricky Knight in the movie).  He's not one of those people to give out compliments so he was just over the moon for Nick and the whole family. My family just loved the cast, every single one.
And what about your real life brother?
Paige: Jack, yeah my brother loved Jack.
Jack Lowden-Yeah, he gave me a lot of work to do. I had about six or seven weeks to put on as much weight as possible in size and muscle. I trained twice a day and ate four to five meals a day to get big. He's a big guy.
Thoughts on the hardest scene in the movie?
Stephen Merchant- The hardest scence for me to shoot was that final match that Paige has because we had one hour at the Staples Center in LA. There were 20,000 real fans and WWE gave us one hour to shoot with the real fans after a real broadcast. Those were all real fans. Florence had to go out there in front of all those people, many who had seen the match for real and recreate it. Wayne Johnson came down and he kind of hosted the event. Paige hadn't been wrestling in a while, people hadn't heard her music in a while. When the music came on there were very mixed emotions of people that were so excited to see her again but then also really upset that it wasn't her and it was a pretend Paige!
Florence Pugh- I would come out and they would be really confused whether they should be cheering or booing at me. It was totally bizarre to go out as someone that people adore because they're really depressed that it's not them. It was scary but we got it done in forty minutes. We had a lot of cameras.
So grab the kids, friends, family or go by yourself. This is feel good movie you will want to see on the big screen.
Fighting With My Family 
This February, show the world what you're made of. Based on an incredible true story!
Disclosure: Special thanks to Annapurna Pictures for the NYC Fighting With My Family Press Junket media invite. All opinions are that of Diane Sullivan and do not reflect the views of the parent company represented. Contact me for collabs at Diane@3decades3kids.net or @3decades3kids across all social media networks. See you at the movies! Fighting With the Family now in theaters. 3decades3kids.net