Breakfast With Elf On The Shelf At Gaylord Palms
You may love them. You may hate them. But if you have a child who is into the magic of Christmas you most likely have a visitor in your house that arrives just after Thanksgiving and stays on until Christmas Eve. Yes, you know who I am talking about, those adorable, sweet, mischievous Elf on the Shelf! In our house we have two, Cupcake and Snowflake. They don't follow any of the rules and generally do whatever they want during the advent season. They sure are fun to watch and our family also enjoys watches all the antics that take place around the world when it comes to Elf on the Shelf.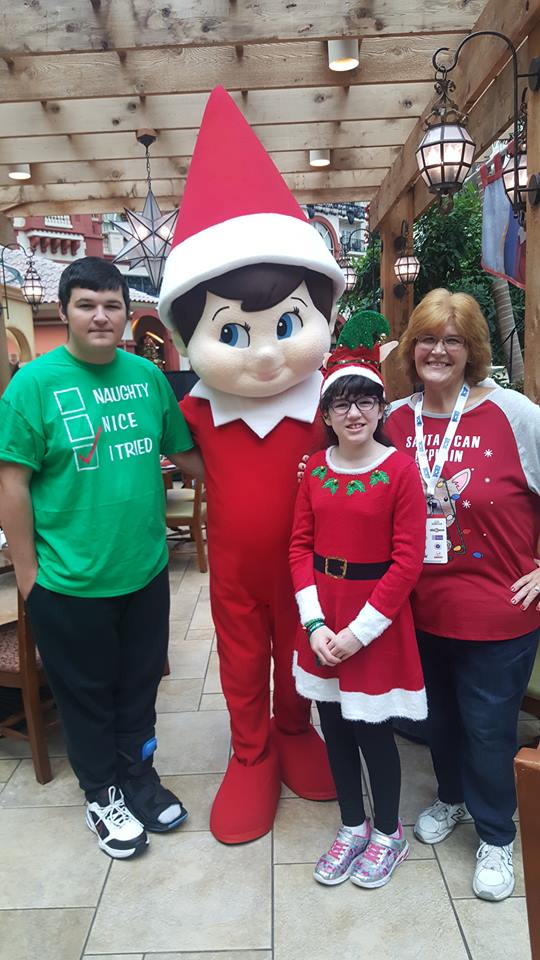 Did I mention we also have a official reindeer? We got him on one of our trips to Gaylord Palms in Orlando Florida where Christmas is celebrated to the max. There is a bigger than life gift shop with a full section dedicated to the Elf on the Shelf and friends. You can get more Elf friends there, pets for your elf, clothes, recipe books and more. It's a dream come true for any family that hosts an elf during the month of December.
So, let me back up a little bit. This past Christmas season our family headed to Gaylord Palms for the second year in a row. Gaylord Palms is a spectacular resort that is a mini city onto itself. It's a place you can literally get lost in it's so big. Thank goodness they have their own app to help you navigate the resort. Our visit was to enjoy Ice- A Christmas Story which is definitely something you want to put on our to do list for the next holiday season. While visiting we were invited to experience the one and only, Breakfast With Elf on the Shelf! Yes, you heard me right! 
Gaylord Palms hosts a character breakfast every year during the holidays. This year it was Breakfast With Elf on the Shelf. It wasn't long after being seated that we were joined by Santa's Official Scout Elves who gladly interacted with us and posed for pictures. The breakfast is set in an enchanting atrium which is the perfect backdrop for a million holiday pics. Our family was able to enjoy a  wonderful delicious buffet spread. There was so much to choose from including a personalized omelette station, freshly made french toast, waffles and more. There are also classic breakfast favorites and stations manned by the chef.  Of course there are a fresh breads and muffins, delicious fresh fruit and basically anything you can think of to dine on for breakfast.  Coffee, tea and juices are brought directly to your table for a refreshing treat.
In my eyes it's never too early to start planning for the next holiday season. If you have an Elf on the Shelf fan in your house, this may be a perfect choice just for you! For more information about Gaylord Palms click on the next link. Anytime is a great time to visit Gaylord Palms!! https://www.marriott.com/hotels/travel/mcogp-gaylord-palms-resort-and-conventi
Disclosure: All opinions are that of Diane Sullivan and do not reflect the views of the parent company represented. Media Invite provided and complimentary breakfast provided. Contact me at Diane@3decades3kids.net or @3decades3kids across all social media networks.